Extended Range of Butterfly Valves
Danfoss Flomatic Corporation introduces their extended size range of Butterfly Valves. The Sylax series Butterfly Valves are now offered in sizes 2" through 24" and are designed for water supply, HVAC, and general industries.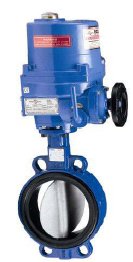 Both the wafer and lug styles can be provided with 10 position locking lever handle or optional gear operator or a standard ISO top flange for direct mounting of electric/pneumatic actuator. These robust, reliable butterfly valves feature an internally and externally epoxy coated cast iron body with a self centering, floating, disc providing 100 % sealing with a tongue and groove resilient seat.
Standard seat liner is EDPM or optional Buna-N. The Sylax butterfly design incorporates a blow out proof full thru-size one piece valve stem design supported by an upper and lower low friction bearings and an internal spline stem/disc drive. The Sylax also feature easy maintenance with interchangeable parts that include discs, shafts, and liners which simplify service and reduce maintenance costs.
About Danfoss Flomatic
Danfoss Flomatic Valves is a diversified manufacturer of valves- specializing in Backflow Preventers, Automatic Control Valves, Check and Foot Valves. Available in a wide range of sizes and materials, these valves are specifically designed for the Municipal, Industrial, Domestic and Irrigation Markets.
About Danfoss
Danfoss is Denmark's largest industrial Group with an annual sales turnover in 2002 of 2,008 million EUR and about 17,000 employees.
Danfoss is an international Group and belongs to the leaders in research, development and production of mechanical and electronic components for several industrial branches. Danfoss seeks to obtain its goals with a minimal consumption of raw materials and energy, least possible impact on its surroundings and the most efficient exploitation of resources.