Extended Functionality for the PumpSelector
NEW: A platform for efficient communication between buyer and seller thanks to an integrated inquiry and offer management! Furthermore: impeller.net is available in three new languages.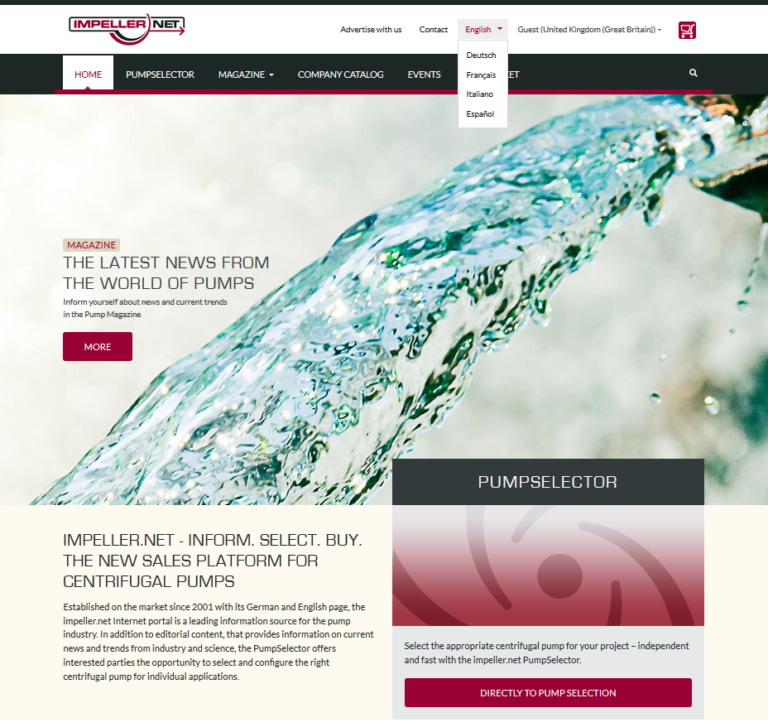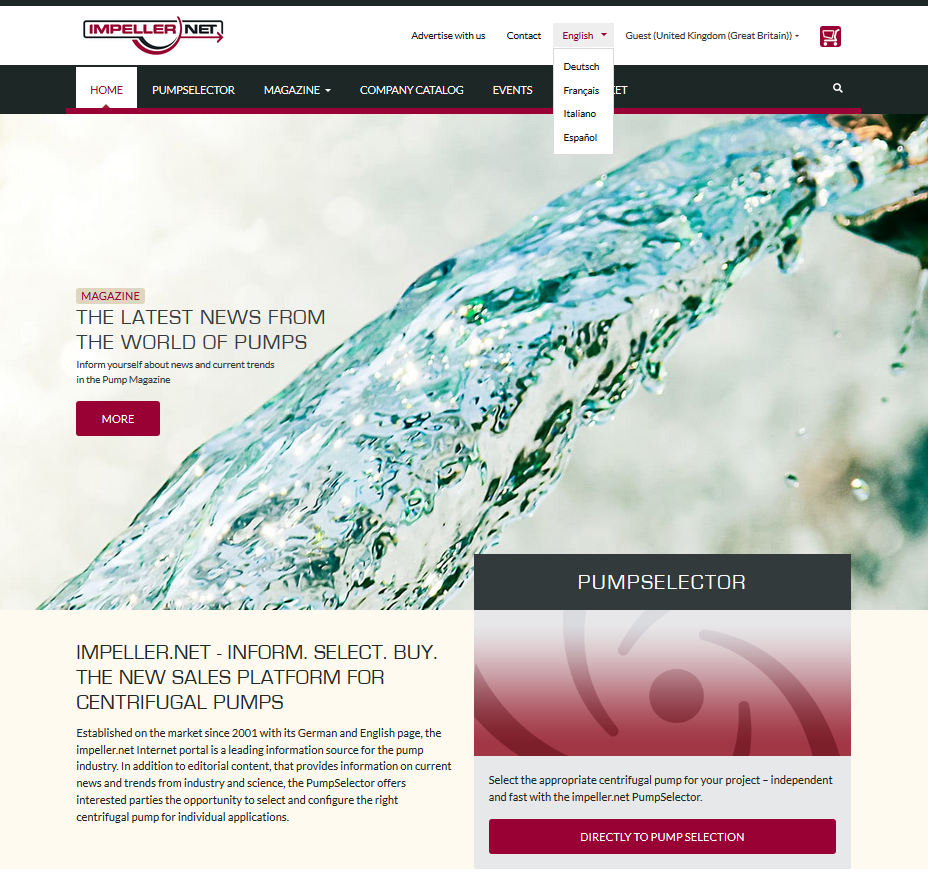 Three new languages available in the impeller.net portal (Image source: VSX - VOGEL SOFTWARE GmbH)
The PumpSelector as a comprehensive communication platform
The advantage for potential pump buyers is obvious: Suitable pumps from different manufacturers can be selected according to specific selection criteria. And to ensure that the request and quotation procedure remains clear, the entire communication takes place in the impeller.net customer portal. All manufacturers are contacted separately and all consulting processes are bundled at a central point. Besides, all offers use a uniform database, which makes it possible to compare them directly with each other.
The central storage of all communication processes is also a considerable advantage for manufacturers, allowing sales and management to keep track of open processes. Pricing, including discounts, can be edited directly in the portal. The quotation is generated as a PDF file and sent directly to the customer in the portal. Due to the possibility of creating different consultant accounts, sales transactions can be assigned to individual employees. This ultimately benefits the potential buyers as well, since they are assigned a personal consultant.
Language extension
Thanks to the additional languages - French, Italian and Spanish - a wider range of customers can be reached in the respective national language. The availability of the new languages extends across the entire portal and is included in both the PumpSelector and the Magazine sections. Articles that do not exist in the respective language are made available as machine-translated versions. As a result, advertisements, company profiles, calendar entries and vacancies can also be booked in any of the available languages.
Current products in PumpSelector
Currently, the product areas of 'Heating, air conditioning, cooling', 'Water supply', 'Drainage and sewage' and 'Industry' are covered by pumps manufactured by Papantonatos (Greece), Pentair Sta-Rite (Italy), Pentair Jung Pumpen (Germany), Shakti (India), Tsurumi (Europe) (Germany), Wilo (Germany) and Zenit (Italy). Further manufacturers are to follow soon.
Outlook
"In the coming weeks, we will continue to work on enhancing user-friendliness and gradually add new functions to the offer," comments Jens-Uwe Vogel, Managing Director of VSX - VOGEL SOFTWARE GmbH and publisher of the impeller.net Internet portal. "With the pump encyclopedia, we also want to provide the user with a broad know-how on pump technology and give practical tips on design. In addition, the section of the event calendar is being revised".
Questions? Suggestions? Participation in the PumpSelector?
Please contact us at advertising@impeller.net or feedback@impeller.net. We are looking forward to your request.