Extended Flow Meter Product Range
Lutz flow meters are well tried and recognised in numerous applications by precise measuring results, high reliability and user-friendly operation.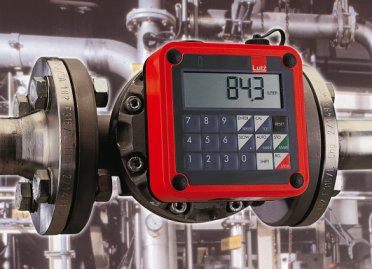 They are particularly suited for the high demands of industrial measurement of flow volumes and Lutz therefore has consequently expanded the existing product range. The new flow meter series HDO measures besides aqueous and lightly viscous fluids also highly viscous fluids up to max. 500.000 mPas precisely and reliable – even high flow volumes up to 350 l/min, pressures up to 55 bar and temperatures up to 120° are possible.
A significant feature of the HDO series is the measuring system with the proven oval gear principle. This technique guarantees precise measuring accuracy (+/- 0,5% of the measured value) and a very good repeatability (0,03%). The measuring results are by and large independant from the viscosity of the liquid being measured and a re-calibration due to changing features of the liquids and/or application conditions in the majority of cases is not required. Disturbances in the flow profile like vortexes and turbulences in the pipe line do not negatively affect the measuring process.
Even non conductive liquids do not create a problem as the flow meter directly counts the displaced volume. Few components and wearing parts as well as low frictional resistance in the measuring mechanics emphasize the high reliability and operational safety of the plant.
For this reason, the HDO flow meters are employed in very different fields of industry. Typical area of applications are e.g. chemical/petrochemical industry, paints and lacquers, chemicals- and mineral oils, plant construction.
The flow meters HDO are available in nominal widths DN 25, 40 and 50, alternatively with thread- or flange connections. Depending on the composition and character of the medium the housing parts and measuring wheels coming into contact with the liquid are made from aluminium, stainless steel or PPS (polyphenylenesulfide).
The electronic components of non-Ex und Ex-version (Atex 100a) belong to the well-tried Lutz modular design. Single modules like basic meter, operating unit, relay module or power supply unit can be optionally combined. Whether a simple adding up of the flowing fluid is required or a controlled filling of a determined liquid quantity by preselection shall be realised: The Lutz modular design allows for individual customised and tailor-made system solutions for the different industrial application tasks.