Extended Closed Coupled Pumps
The pump range of ASV Stübbe is extended in the economical range of closed coupled pumps. Because of redesigning of the shaft bearing it will be now possible to use a motor up to a size of 160 with a power rating max. 15 KW at 1450/2900 rpm.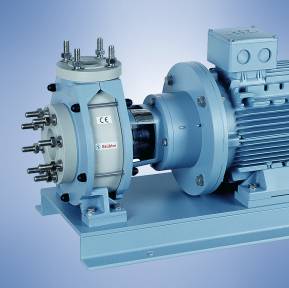 NMB pump (source: ASV Stübbe GmbH & Co. KG, Vlotho)
Flanged standard motor according to IEC or Nema can be used with a flanged adaptor. The capacities of these pumps are max. 100 m³/h with a head of 35 m at 1450 rpm and 200 m³/h with 60 m at
2900 rpm.
To create a high reliability for the mechanical seals the pump shaft is extremely resistant bending with a very high truth of running. Thereby radial run-out at the mechanical seals are prevented.
The closed impeller is moulded with metal inside to safe torque transmission. The impeller is fixed on the covered pump shaft, independent of direction of rotation. This kind of impeller fixing on the covered pump shaft will be standard for ASV Stübbe plastic pumps and it helps towards a safety operating method. The axial thrust in hydraulics during running operation will relieve the bearings because of a special relieving device at the impeller.
The adaptation for chemical pumps in plants with dynamic needs will be realized with a frequency regulated motor. A result of this is an optimal regulation of capacity and delivery head with lowest consumption of energy. Because of this energy saving is very large.
Achema 2003, Frankfurt
Hall 8 / Stand S 17 – S 19