Extended 10" Submersible Pump Range
Calpeda announces the extension of its 10" submersible pump range for deep wells with new mixed flow models.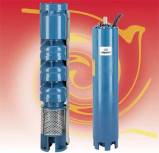 (source Calpeda)
In addition to the current series 10SDS 160 and 190, the new new 10SDS 280 covers greater flows up to 350 m³/h.
The applications include water supply, fire fighting and irrigation as well as civil and industrial tasks. The pumps are suitable for liquid temperatures up to a 35 °C (25 °C with rewindable motor) and with up to 100 g/m³ sand contamination.