Everything Comes to an End, Except for Pumping
They have come to stay: even though the miners may have long since left the mines after they closed down, the pumps continue to perform their duties.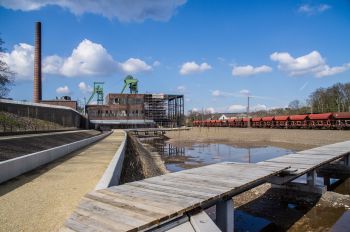 Image: Messe Düsseldorf
Their duty is to keep the mine shafts from running full with water, which would cause damage to both the surface and groundwater. Mining of hard coal will come to an end in 2018, and the recurring discussion about the future of lignite in Germany won't have any effect on pumps.
Pits have been closing down for a long time in the loss-making hard coal mining business. Following Germany's decision to axe subsidies in 2007, the end was sealed. In addition "the European Commission has approved the decommissioning plan for the subsidised German coal mining on 7 December 2011," declared the German government.
The final shift in 2018
End of 2015 the Auguste-Victoria mine in Marl will produce coal for the last time, end of 2018 the mines Prosper-Haniel in Bottrop and Ibbenbueren will follow. The market pressure created by far cheaper coal from Australia is too great, pushing German coal from the market. It has become cheaper to import coal than to produce it.
The mine in Bottrop will soon close its doors, even though 103 young people started their apprenticeship in the mine this year, for the last time. "You can be proud to accompany the end of German coal mining. With good performance you can make yourselves competitive for the later job market," the training manager and an employee representative greeted them. In three years time, the apprentices will have to look for a new job.
Pumping off pit water
However, pumps won't leave the mines. The scenario posed by the mines that still have to shut down will be similar to the Zollverein Coal Mine. Below the mine located in Essen, where the conveyer belts have been standing still since 1986, six centrifugal pumps as tall as a man have been performing their duties in a depth of around 1,000 metres. They pump off the mine water flowing together from several shafts, with a pressure of 100 bar.
The task of pumps is fundamental – without them, the Ruhr area for example would be threatened by a catastrophe. It would be turned into a lake area, as the depressions created by mining would slowly run full of water. Upper strata would swell up due to the rising mine water, causing mining subsidence damage. Contact with groundwater used for drinking water production would also be fatal, as it could be contaminated with iron, nickel and triplite.
Long-term liabilities
As it is a long-term problem, pumps will always be required. In order to come to grips the long-term liabilities caused by mining, hundreds of pumps are in operation in the Ruhr area. Next to mine water management, polder measures and groundwater purification are also included in the costs of the long-term liabilities.
All of this is reason enough to keep on pumping, namely where water collects itself at the deepest point. Former mine operators mainly use centrifugal pumps. In order for them to perform their tasks, their pumping chambers need to be supplied with fresh air, making a second shaft necessary. Submersible pumps meanwhile serve as an alternative, as they don't require a pumping chamber. They hang from the surface deep down into the mine water, and don't need an engine room, or a shaft.
High loads
In order to pump mine water out of the operating areas, Andritz for instance places its trust in single and double suction submersible motor pumps. For "heavy duty mining", two pumps are "arranged on top of each other and driven by a continuous pump shaft," the company explains. Splitting up the tasks of the pumps is claimed to completely compensate the axial thrust, meaning load on the units is kept to a minimum and the thrust bearing is no longer subjected to tonnes of thrust. At the same time, suction velocity outside of the pump is halved. This protects the well walls around the intake openings and minimises the intake of abrasive solids and silt." For submersible motor pumps for pumping huge quantities or from great depths require the units to cope with extreme loads.
Media a challenge for pumps
The requirements for pumps are high, as they are exposed to aggressive and abrasive media. Bronze for acidic media "and new materials, for instance sophisticated plastics and elastomers, as well as chrome and duplex steels, ensure reliable, low-maintenance operation," emphasises Odesse. Apart from submersible pumps, waste water pumps are also used to pump away water, mounted onto swimming platforms. For extracting pure and waste water, as well as sewage, immersion pumps are utilised. End users place value on efficiency and longevity of pumps, as well as low maintenance costs, adds Odesse. "Robust and low-wear pumps are exactly what is required in mining," underscores pump and valve manufacturer KSB.
Pumps in high demand around the world
Pump manufacturers, suppliers and dealers are naturally called upon not alone in Germany for open pit and deep mining. Demand is high around the world: pumps are required for extraction, dewatering, waste water treatment, transport and refilling and dosing chemicals.
Take South Africa for example: a lake with in parts heavily contaminated water is below Johannesburg, "which spreads horizontally and vertically into the abandoned pits of the former gold mines," explains Andritz. The water level had reached a critically high level. The company was awarded the contract to install two submersible motor pumps, with each pump capable of bringing 1,500 m³/h of water to the surface. The pumps are 21 tons heavy and 15 meters long, with a diametre of one meter. They are freely suspended on 430 meter long duplex steel pipes, they transport the acidic mine water to the surface and onwards into an adjacent treatment plant. Acidic water is a large market: according to Dieter Schmitz, head of business development mining at Andritz Ritz, it is "a major problem" around the globe.
Flotation and extraction
Robust pumps are not only of great importance for draining pit water. They are also used for the heap leaching process, flotation, suspension and solvent extraction. Pumps for dosing leaching agents, such as hydrochloric or sulphuric acid, are used in leach dumping. "Heap leaching sees the ores sprayed with chemical solvents", explains Prominent. The leaching agents seep through the ore heaps and dissolve the metals from the ore.
Various chemicals are added in order to remove the ore from the floatation pulp. "The process turns the activated ore minerals hydrophobic and they accumulate on the surface in a thick blanket of foam, where they can be skimmed from ," states the company. Here, metering pumps are employed.
Resource-rich countries
Metering pumps are required for dosing extracting agents during solvent extraction. In the solvent extraction separation process, a dissolved medium is extracted from a liquid mixture. In the metallurgic solvent extraction an organic solution is won from the metal-rich leachates. This takes place by dosing the required solvents with diaphragm metering pumps.
From a global point of view, the pump market remains attractive. Countries rich in resources – such as those in South America – will continue to intensively mine for copper, gold and silver. Natural resources also for example include silicon carbide in Norway, copper ores in Bulgaria, kaoline in the Ukraine, or mineral salts in the Republic of Belarus. Mining is also central to Kazakhstan's economy, where iron ore, copper, gold, nickel and cobalt are extracted, amongst others. Next to Germany, the USA, China, Russia and states in Middle, East and Southeast Europe also mine large amounts of coal – around a billion tonnes a year.
Suppliers are called upon
Chile also belongs to the most interesting markets, where mining belongs to the most important sectors of the economy. Mining of copper and other resources became "the driving force of economic development," explains Germany's Department of Foreign Affairs. However, the sinking copper price caused problems for the mining industry in 2015 – several investment projects were therefore delayed. Nevertheless: estimates foresee the Chilean economy will grow by 2.7 percent in 2015.
Markets also remain interesting that aren't in full bloom anymore. According to a market development program of the German Federal Ministry for Economic Affairs and Energy (BMWi) for small and medium-sized businesses the Chilean industry continues to lead in view of various metallic and non-metallic mining projects. "The world's largest mining companies are in Chile," states the BMWi. The country is seen as the "mining capital of Latin America". Suppliers with the highest quality products and best terms and conditions are in demand, "so these investments help maintain the competitiveness of the Chilean mining industry," claimes the ministry. An open invitation for the pump sector to engage intensively in the market.
Pumps for Peruvian mines
The Peruvian market can also be recommended. Here, Abel delivered two big cone valve solid handling pumps to a gold and silver mine in Peru. The pumps will be used for backfilling of tailings. "In this procedure fine crushed tailings get mixed to a paste with water and a binder, then this paste gets backfilled in mine cavities by power of ABEL SH pumps," the company states. This process helps dispose tailings, as well as stabilise the mine. Up to 95 m³/h paste are transferred, with a pressure of up to 100 bar.
Facilitating growth
Pump manufacturers, suppliers and dealers have proved they can deal with pressure. They can cope with the market pressure: as long as demand for tubes, cables, batteries and circuit boards is high, the mining industry will flourish. Higher costs for mining rights and stricter environmental protection rules won't change the situation: the higher the product quality, the lower competitive pressure. Quite the contrary – high quality pumps facilitate the sector's continued growth.