ESK Distinguished as the Best Supplier in 2007
A great honor has been paid to Kempten-based ESK Ceramics: the manufacturer of advanced ceramic products and materials for industrial applications has received the "Grundfos Supplier Award 2007."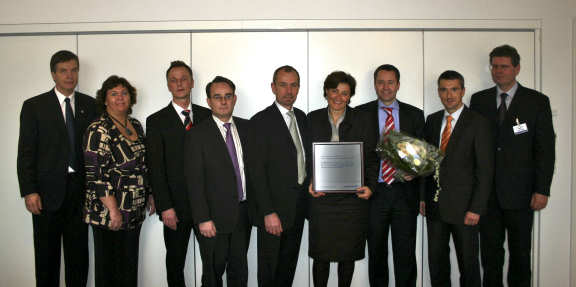 At the award ceremony, from left: Aksel Kolding, Susanne Troelsen, Sven Schack, Adrian Driscoll, Klavs Hornum (all of Grundfos); Barbara Schaaf, Heiko Schulz, Sven Schweizer and Jeff Janssen (all of ESK) (photo: Grundfos).
Grundfos is one of the world's biggest manufacturer of pumps with total sales of over € 2 billion. Each year, the company evaluates over 500 suppliers according to criteria such as quality, reliability of delivery, sustainability, service and competitive prices. ESK has continually met the highest specifications and therefore earned the distinction of supplier of the year 2007.
The Grundfos Group, headquartered in Bjerringbro, Denmark, employs a total of 15,000 people in its 50 subsidiaries around the world. Its market share for circulator pumps for heating systems is 50 %.
Since 1998, ESK has supplied Grundfos with high-quality heat- and corrosion-resistant mechanical seals and bearings of EKasic® silicon carbide. The EKasic® ceramic that ESK develops and produces at its Kempten site is harder and more resistant than metal, it is now a standard component for pump construction not only at Grundfos.
"The distinction is a huge success and, of course, an outstanding reference for us. My very sincere congratulations to our team. It earned the award through perfect project management and first-class customer service. The achievement is all the more considerable when you consider that we have outstripped much bigger competitors," enthuses Dr. Thomas Jüngling, spokesman of the ESK managing board in Kempten.
"ESK is one of the most important suppliers for manufacturing our industrial pumps and closely integrated in a whole range of new projects. This extensive project management requires really top performance. With ESK, we can always rely on Key Account Manager Heiko Schulz and his team to take care of everything down to the last details," said Klavs Hornum, Purchasing Director at Grundfos, at the official award presentation held at Grundfos headquarters in Bjerringbro. The prize was accepted by ESK Vice President of Sales Barbara Schaaf, Senior Manager Sven Schweizer, Production Manager Jeff Janssen of ESK France and Key Account Manger Heiko Schulz.
About ESK Ceramics
ESK Ceramics, based in Kempten, South Germany, and with a subsidiary in Bazet (France), is one of the world's leading manufacturers of advanced products and materials for industrial applications. ESK was founded in 1922 in Kempten. Our 18 successful brands and 10 specialized materials are the basis of a portfolio that customers from all key industries worldwide have come to rely on. ESK's 15 current patents secure our technological leadership in numerous applications. To further enhance our lead, the company annually invests around 3% of sales in R&D.
Since 2004, ESK has been a wholly owned subsidiary of Ceradyne Inc. Ceradyne is a publicly listed company (NASDAQ: CRDN) based in Costa Mesa, California, with over 2,230 employees at a total of 14 sites. Its sales reached USD 662 million in 2006 (around € 480 million).