Environmental Crisis Looms in Latin America
Solving the complexities of providing clean water and safe sanitation in a time of climate volatility was addressed during the 32nd Water Action Platform webinar on 28 October 2021. Hosted by Isle chairman Dr Piers Clark and supported by technology consultant Rodrigo Valladares, this event focussed on Latin America – highlighting imminent and increasing environmental challenges.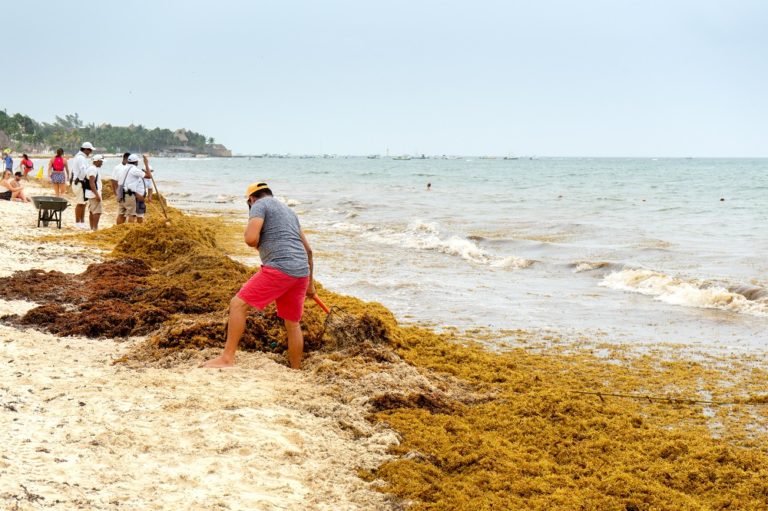 An influx of sargassum is a major challenge facing the Caribbean (Image source: Isle Utilities)
Initiatives and technologies which are being brought to bear were presented from across Mexico, Chile and Colombia.
Access challenge
Sergio Campos, head of the water and sanitation division of the Inter-American Development Bank, discussed the main challenges facing the water sector in Latin America, including social inclusion and equality, productivity and innovation, and economic integration - while considering the effects of climate change and environmental sustainability.
"The main challenges for the water sector in Latin America are mostly related to access – 25-30% of the population in Latin America don't have a continuous or drinkable source of water," said Campos. "And for sanitation it's almost two-thirds of the Latin American population that don't have access to adequate sludge management.
"But it's not only access, it's also the vulnerability to climate change. We estimate we need approximately US$20bn per year to meet sustainable development goals by 2030 and there are important things that need to be addressed in terms of corporate governance, regulation and innovation."
While Latin America boasts a third of the world's fresh water supplies, it comprises many arid areas and faces the challenge of varying rates of innovation adoption.
"The gamechanger is innovation," said Campos, "but not only linked to technology – it has to be holistic so innovation in governance, communication and socialisation too."
Moving on to environmental challenges, Clark told the webinar audience, "There are two major environmental catastrophes looming in this part of the world, and due to the potential impact they could have across the world, we need to be aware of them."
Clark identified hypoxic waters – or dead zones - and over-accumulation of a large brown seaweed called sargassum as the major challenges facing the region.
Tackling dead zones
The Gulf of Mexico dead zone is one of the largest hypoxic areas in the world and is occurring at the mouth of the Mississippi River, which has tell-tale low concentrations of dissolved oxygen. The challenge arises from the impact of fertiliser from farmland causing nutrient enrichment in the river, particularly nitrogen and phosphorus.
The size of the zone varies depending on river flow and precipitation and this is more variable than ever due to climate change. Clark argued that the key to minimising the Gulf's dead zone is to address the problems at source – using less fertiliser to limit excessive run-off, controlling animal waste entering waterways and monitoring sewage treatment facilities to reduce nutrient discharges.
Upcycling seaweed
A massive influx of sargassum to the coats of the Caribbean Sea is the other major challenge, but a circular economy approach is being explored to rebalance the natural environment. The cause of the excess seaweed is thought to be an increase in nutrient load due to deforestation and other land-use changes.
"The increased invasion of sargassum has caused adverse effects on human health and ecosystems, as well as tourism. Long-term management strategies are needed to deal with the harmful impacts," said Isle technology consultant Rodrigo Valladares.
Scientists are now working urgently to bring circular economy thinking to the issue of sargassum - which has potential as a valuable resource. Experiments are underway to explore its use as biorefinery feedstock, extracting biogas, biofertiliser, alginate and fine chemicals.
Chilean technologies
A robot that inspects hard to reach tunnels and an air bubble blanket to filter pollution were featured in this month's technology showcase which highlighted solutions from Chile.
Diego Olivares Meneses, head of innovation at Aguas Andinas (AA), Chile's largest utility discussed how the utility is facing increasing pressure on its water supplies due to low rainfall, and how they are using technology to become more water efficient with its existing resources.
One scheme involves using remote control tunnel inspection robots to conduct diagnostic tests in difficult or dangerous to reach pipelines, without the need for supply disruptions. Knowing the true condition of the assets supports the development of maintenance and repair schedules for operational and financial optimisation. The utility is currently developing more aerodynamic robots to increase its capacity to find and fix issues and improve water management across its network.
PSP is a Chilean technology company in the aquaculture sector and director Luis Sepulveda explained how the company is using an air-bubble barrier technology known as LowO2 to tackle pollution in reservoirs. A specially designed pipeline diffuser allows uniform generation of millions of micro-bubbles, creating a 'wall' that blocks the passage of undesirable elements such as microalgae, algae, oil and litter.
According to Sepulveda, permanent use of these barriers can have a significant positive impact on ecosystems by minimising fouling in pipes and backwashing, as well as discharge of organic material into the environment.
Big leap forward
The Water Action Platform was originally started in March 2020 to support utilities' response to the global pandemic. Times are changing and the focus is now shifting to the even greater challenge of climate crisis.
Piers Clark said, "Next month I will share details of a new initiative called the Trial Reservoir - which I think is the most exciting thing to happen in the water sector for a generation and has the potential to be a significant leap forward in our approach to the climate crisis."