Entry-level Grundfos Alpha1 with Display
Not every application requires the functionality of the successful circulator Alpha2. So in 2012, Grundfos introduced the basic version Alpha2 L as a solution for standard tasks in heating services. At the ISH, the company is now presenting the new edition Alpha1 with a display to show the current power consumption.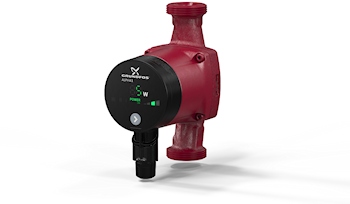 Grundfos
With permanent magnet motor technology and integrated speed control, it provides high efficiency at an attractive price and has already met the requirements of the second stage of the EuP Directive from August 2015 with a less than 0.23 EEI.
Eight versions are available for 4 or 6 metres head in the lengths 130 and 180 mm, and a stainless steel version is also available. The functional range is designed for the most important tasks in heating services. The pump comprises two constant pressure, two proportional pressure and three constant-speed characteristics. A typical use for the Alpha1 is the boiler loading, where it works much more efficiently than conventional unregulated pumps, like for example former UPS models, because of its speed control.
The design of the Alpha1 is based on the proven concept of the Alpha2 models, which have been sold already more than three million times. The new version is now also equipped with an LED display, on which the current power consumption of the pump can be read off in Watts - a function that has already convinced many Alpha2 customers. Additional features include a built-in memory to store the settings in the event of a power failure, overload protection, and the ability to replace only the pump head if the installed housing is in good condition or not easily accessible.
In addition the installer benefits from the Alpha1 thanks to the plug-and-pump technology with the practical Alpha plug, which is now also available in angled form. The scope of delivery already includes high-quality insulation jackets with a heat transfer coefficient of only 0.35 W / (m² K).
As a highly efficient, EuP compliant pump with an attractive price /performance ratio the Alpha1 is ideal for standard applications in heating services which have been operated in the past with unregulated UPS pumps. High energy efficiency and manageable investment costs thereby enable short payback periods.