Enhanced Delivery Service for Process Pumps
Under the name FAST™, ABS has launched a range of process pumps at a maximum of 10-days delivery time. It includes a range of 15 process pumps of the well proven BA and NB pumps.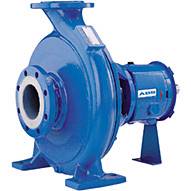 ABS' NB chemical process pump (source ABS)
The pumps cover a complete performance field for the majority of process applications.
The pumps included in the FAST™ concept are versatile and designed for pulp and paper stock, slurries in general and clear liquids. The hydraulic effiency is also very high. This new concept will ensure trouble free pumping with minimised operational costs. The FAST™ concept, is mainly targeted towards industry customers but can also be used in water and wastewater applications.
About ABS
ABS is one of the world's leading manufacturers of pumps, mixers and aerators specialising in Water & Wastewater, General Industry, Pulp & Paper and Building Services. Its extensive world-wide sales and service companies operate in Europe, North and South America, Africa, Asia and Australia.
ABS is the major part of Cardo Pump which in turn is one of three business areas within Cardo AB, an industrial group listed on the Stockholm stock exchange. Cardo AB had a group turnover in 2001 of more than EUR 1,167 million.