Engineering Insight Sponsors Brunel University's "Made in Brunel" 3-day London event
Engineering Insight, an initiative set up by water technology provider Xylem Inc. is sponsoring Brunel University's "Made in Brunel" event in London this month.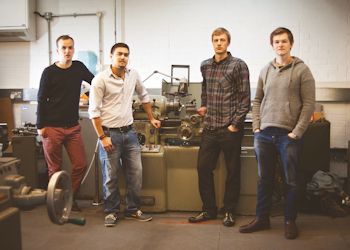 left to right: Tom Clapton, Karoli Serevas, Sam Barnes and George Davis (Image: Xylem)
Made in Brunel is the School of Engineering and Design's major event of the year and will run for three days – 13 to 16 June – and take up three floors of Barge House, Oxo Tower Wharf in London.
The commemorative book that accompanies the event features projects from between 20 and 30 students, including a real-life engineering challenge undertaken by a group of BEng Mechanical Engineering students under the Engineering Insight scheme. The team (Sam Barnes, Tom Clapton, George Davis and Karolis Serevas) was given a brief from Xylem engineers to re-design a pneumatic regulator valve used on offshore oil production facilities, adding functionality and further safety features. During the early stages, Xylem also added a requirement for a method to lock the valve and vent air from the system straight to the atmosphere in an over-pressure situation. The students used specialist computer-based analysis tools including a specialized fluid dynamics package, to assess the current design. Creative thought married with the engineering knowledge gained during the students' time at Brunel enabled the team to put together a complete technical and commercial report, including detailed manufacturing plans, operational and technical validation, a competitor benchmarking study and full cost analysis, which was presented to senior engineers and product marketing experts from Xylem.
The Engineering Insight initiative was set up by Xylem to promote closer links between industry and mechanical engineering students at leading universities and iMechE accredited institutions. There is currently a shortfall between the number of young people studying engineering and the number that will be required be required by UK industry in the future.
Engineering Insight's new website at www.engineeringinsight.co.uk aims to help attract young people to a career in engineering. The programme provides final year students with a real-life design challenge to work on as part of their degree course. Challenges are set and adjudicated by Xylem's top team of engineers working in areas such as the oil and gas industry, the water industry and food and beverage processing. This year's group winners will receive Microsoft Surface Tablets. Every student who participates in the scheme is rewarded and receives an engineering textbook provided by one of the scheme's partners, McGraw Hill Publishing.