Energy Savings up to 60 %
In the spring, KSB Aktiengesellschaft, will be launching another variant of its motor-mounted variable speed system for pumps, which has already proven valuable in industrial processes.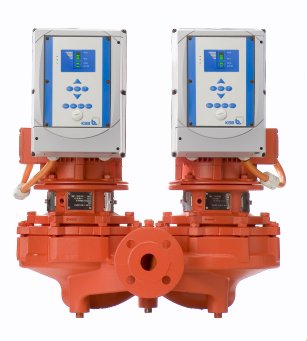 Using the new PumpDrive, operators of heating and cooling systems can save up to 60 percent in energy usage. (poto: KSB Aktiengesellschaft, Frankenthal).
Developed for building services applications, the new PumpDrive model will help operators of heating or cooling systems save up to 60 percent of energy. It comes with an easy-to-read, backlit display and shows permanent readings of the actual speed. Users can adjust the speed and other setpoints locally. A PI controller, as well as digital and analog inputs and outputs for standard signals, enable all typical pump control modes. Motor protection functions are included as a standard. Upgraded with an optional module, two drives can communicate with each other, allowing the user to operate two pumps simultaneously by means of the integrated control feature.
As PumpDrive is independent of the type and make of motor used, it can easily be retrofitted on pumps installed in heating or air-conditioning systems.
Thanks to its modular upgradable design, functions can be added at any time, and it can be integrated in process control systems. Commissioning is just as simple as for fixed speed pumps. KSB is the only supplier currently offering a motor-mounted speed control system for pumps up to a rating of 45 kW.