Endress+Hauser Conducta Receives the European Business Award and the Top Job Seal of Quality
For the fifth consecutive year, Endress+Hauser Conducta has received the European Business Award. The Endress+Hauser Group's center of competence for liquid analysis took the "National Winner" award in the "Business of the Year" category for 2018. The company also received the Top Job seal of quality once again as one of Germany's best medium-sized employers.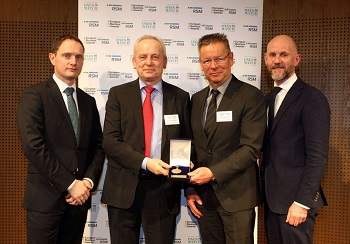 "Enthusiastic employees and a focus on customer-oriented innovation is the foundation of our sustainable success," says Dr Manfred Jagiella, CEO of Endress+Hauser Conducta and member of the Executive Board at the Endress+Hauser Group.
Since 2007, the European Business Award has recognized companies in 11 different categories. When evaluating the nominees, the jury, composed of prominent representatives from government and industry, evaluates the nominees based on innovation strength, ethical commitment, economic success and long-term strategic alignment balanced by the flexibility to respond to dynamic market conditions.
Attractive employer
At nearly the same time, Endress+Hauser Conducta was awarded the Top Job seal of quality, capturing second place among German companies with more than 500 employees. Organized by zeag GmbH, a center of competence in the area of employer attractiveness, the awards are bestowed on companies that exhibit a strong commitment to creating a healthy and simultaneously high-performance work culture.
Leader in liquid analysis
Endress+Hauser Conducta is one of the world's leading providers of measurement instruments and complete systems for liquid analysis. The company's intelligent solutions help customers in the environmental and process industries operate their systems in a safe, reliable, economic and environmentally friendly manner. Endress+Hauser Conducta, headquartered in Gerlingen, Germany, has more than 900 employees worldwide.
Picture: Handover of the European Business Award in Berlin (from left): Gregor Schmidt, Chief Officer Strategy RSM, Dr Manfred Jagiella, CEO of Endress+Hauser Conducta, Stephan-Christian Köhler, Director Human Resources Endress+Hauser Conducta and Adrian Tripp, CEO of the European Business Award.