Endress+Hauser Celebrates Its 60th Anniversary
The specialist for measurement and automation engineering is in fine fettle in its 60th year: the family-owned company has just welcomed its 10,000th employee. In the last year alone, over 500 jobs were created worldwide.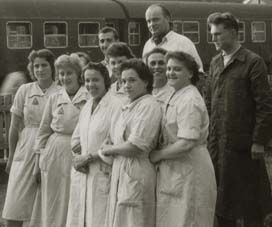 Setting out: company founder Georg H. Endress (center) 1955 with workers in Lörrach, Germany. (Image: Endress+Hauser)
A global network of companies, a range of high-quality products and solid family-based foundations: 60 years after its foundation, the measurement engineering specialist Endress+Hauser still continues to expand. This success is due to the continuity of a prudently run family-owned business whose first and foremost principle is to satisfy customers needs and requirements. First serve, then earn was one of the mottos of company founder Georg H Endress (1924-2008) – and it has lost none of its validity to this day.
Headquartered in Switzerland, the company s independence, fully owned by the founder s family, has been laid down in a charter and is bound to be upheld in future. Firmly anchored are also the fundamental principles of the Endress+Hauser Group: a corporate culture resting on trust and a sense of responsibility is the solid groundwork for sustained growth and technological innovation. This Spirit of Endress+Hauser , filled with life by the company s leadership, makes values such as modesty, loyalty, commitment and fairness the compass points for entrepreneurial actions.
From the device to the system
The last 60 years have left their mark on the Endress+Hauser Group – in the positive sense: the vendor of devices and instruments became a full-range supplier who supports its customer in operating their plants reliably, efficiently and environmentally compatible throughout their entire life cycle. "Our strength is that we are entirely driven by the market," says CEO Klaus Endress who manages the company in the second generation. "We learn from our customers and strive to create sustained and outstanding benefits and value for them."
Today, over 40 sales centers and over 70 representatives around the globe sell products, services and solutions delivered by Endress+Hauser and production sites in 12 countries are engaged in manufacture and development. Thanks to the global roots in various different regions and industries, the Endress+Hauser Group is well able to cope with cyclical fluctuations. The lean and highly networked organization guarantees flexibility and rapid response.
Almost coinciding with the 60th anniversary, another remarkable landmark has been reached - the company welcomed its 10,000th employee. Around 500 new jobs have been created worldwide in the last 12 months alone. Continuity is held high in the family-owned business: in spite of the finance and public debt crisis in 2009, no employees were laid off – with the result that a new sales record was promptly accomplished in the following year after the economy had begun to recover.
Outlook
With sales totalling 1.5 billion euros, the Endress+Hauser Group marked up another record year in 2011 – in spite of a strong Swiss franc and a flagging economy in Europe. "Although the market is extremely volatile today, 2012 will be an excellent year for us," says CEO Klaus Endress. "We trust in our strength and look ahead with confidence, but we must stay alert." With well-targeted acquisitions in biotechnology, gas analysis and energy management, Endress+Hauser has recently rounded off its product portfolio. With an equity ratio of over 70 percent, the company is largely independent of lenders and is well equipped to meet the challenges of the future.