Emotron's New CEO Aims to Double Turnover
08.05.2009
Philip Schwarz has been appointed President & CEO of the Emotron Group as of May 1, 2009. He will be replacing Jan-Eric Bergström, who has held the position since 2001.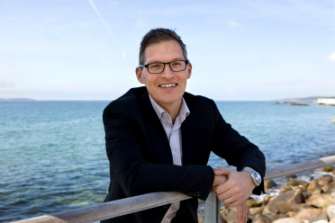 Philip Schwarz
Philip Schwarz has a solid background in sales and marketing and has held various managerial positions in businesses closely associated with Emotron's focal areas.
"This is a natural step in the further development of Emotron," says Hans Johansson, chairman of the Board of Directors. "Philip Schwarz is the right person to take the company to the next level. The transition in leadership was initiated when Polaris Private Equity acquired the company in mid 2007, and we are also pleased to announce that Jan-Eric Bergström will continue his commitment to the company as member of the Board of Directors."
Goal to reach EUR 100 million turnover
Emotron has more than doubled its revenue, both in total and per employee, since 2001. Annual average growth of 15% and stable earnings development have built a sound basis for further growth. Philip Schwarz will now continue to pursue this path.
"Our goal is to reach EUR 100 million turnover in the next few years, through organic growth as well as strategic acquisitions," says Philip Schwarz. "The temporary downturn in the economy will pass and the underlying need for our products and services will continue to be strong. We see great opportunities in our energy-saving solutions as well as in new OEM and branding contracts. In addition, our highly regarded customer support will remain at the top of our agenda."
Strong position in the energy-efficiency field
In 2007-2008, the company launched a new modular product platform which will serve as a basis for further market development.
"Our success will come from our ability to build value around this platform," says Philip Schwarz. "We will continue to develop our project capabilities to offer more complete solutions and application-oriented, functional packages in our focal areas."
Emotron has established a strong position in the field of energy efficiency. The company received the Motor Challenge Award 2008 for its efforts to promote energy savings in systems driven by electric motors.
"The energy crisis is not caused simply by a shortage of energy. The surplus of inefficiency is an even more important aspect, and this is where Emotron can make a difference."
Leading technology wins branding and OEM contracts
Emotron has developed customized solutions for leading OEMs within areas such as pumps, fans, compressors, cranes and crushers. Emotron technology has also attracted the attention of other drive companies, resulting in branding contracts.
"We see this as an acknowledgement of our competence," says Philip Schwarz. "We have the resources to stay in the front line of technical developments and to offer support on a global scale. Our ability to react quickly and adapt our products, software and hardware will help us win new international accounts."
About Philip Schwarz
Joined Emotron in January 2009 as Executive Vice President Sales & Marketing
Has held various managerial positions in sales and marketing with pump manufacturer ABS Group and the ABB division for network control
MSc in Business Administration, Lund University, Sweden
Aged 36 years, married with three children aged 1, 6 and 8
Keen skier and a former rugby player on U21 elite level
About Emotron
Emotron is a Swedish company which develops solutions for protecting and controlling processes driven by electric motors. The driving force is creating measurable benefits through energy savings, reduced maintenance and improved productivity. The complete product portfolio comprises shaft power monitors, softstarters and variable speed drives. The targeted industry sectors are water/wastewater, machine builders, mining, cleantech, infrastructure and process industry.
Emotron focuses on three selected application areas:
Flow control – pumps, fans, compressors, blowers
Material handling – cranes, crushers, mills, mixers, saw mills, conveyors
Lift control – passenger lifts
In the last 30 years Emotron has grown to become a global group with 170 employees and a turnover of 40 million euros. Development and manufacturing resources are located in Sweden, the Netherlands and Germany. The company has its own sales organizations in Sweden, Benelux and Germany, offices in China and Latin America, and a worldwide network of distributors and service partners.