Elliott Opened New Factory in Bengaluru, India
In February 2019, Elliott Group ("Elliott"), a wholly owned subsidiary of Ebara Corporation, opened a new manufacturing facility and started the operation in Bengaluru, India.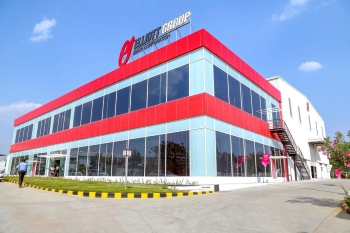 Elliott Opened New Factory in Bengaluru, India (Image: Ebara Corporation)
Located in the south of the country, Bengaluru is one of the India's largest cities, and serves as a hub in a range of industries, from the heavy to the high - technology industry. In order to enhance their customer service, Elliot opened a service center in 2015. The new factory starts a production of small and medium-sized steam turbines, and focuses on the after sales service together with the existing facilities. Thus, it will be a central location to expand the business of compressors and turbines throughout India and East Asian countries.
The new factory handles manufacturing, packaging, and testing of small and medium-sized steam turbines. The expansion of the facility enables them to better satisfy needs from clients mainly in India and other Eastern Asia countries.
Small and mid-sized turbines are used to drive or generate power in wide industrial fields from petro chemistry, food, general chemistry, biomass plants etc. In terms of energy, as the providing system diversify and demands for it is growing, Elliot will strengthen customer service as well as after sales support for existing customers.
For more than 100 years, Elliot has developed turbomachinery business from design, manufacturing, to related support for a wide variety of industrial applications. There are service centers in Asia, Europe, the Middle East, South and North America, and other regions. The worldwide locations enable the company to send service staff rapidly and deliver products to the customers around the globe. We will continue to further enhance our quality and services so that we can provide customers with reliable and promising products.