Elliott-Matsuura Distributing Jet Edge Waterjets in Canada
Jet Edge, a leading manufacturer of ultra-high pressure waterjets for precision cutting, coating removal and surface preparation, is pleased to announce that Elliott-Matsuura Canada has been selected as its exclusive waterjet systems distributor for Canada.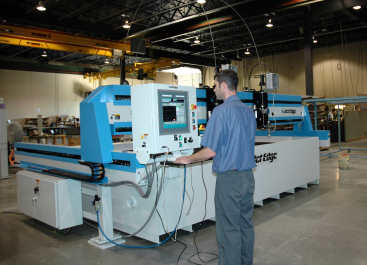 The Jet Edge Mid Rail Gantry waterjet machine is available in many sizes, including 5'x5', 5'x13', 8'x5', 8'X13', 21'x5'and 21'X13'. (Photo: Jet Edge)
As coast-to-coast distributor of Jet Edge waterjets, Elliott-Matsuura carries Jet Edge's full line of precision waterjet cutting equipment, including waterjet cutting machines and waterjet intensifier pumps. The company's service engineers are authorized to provide installation, repairs, calibration and maintenance for Jet Edge waterjet equipment.
Based in Oakville, Ontario, Elliott-Matsuura Canada Inc. has been supplying and supporting quality machine tools to the Canadian metal cutting industry since 1950. In addition to Jet Edge waterjets, Elliott-Matsuura carries a full range of metalworking machinery, including EDM machines, machining and turning centers, grinders, metal forming and metrology equipment, horizontal boring mills, vertical turning lathes and much more. Elliott-Matsuura also provides applications engineering support, including demonstrations, time studies, training, programming, feasibility studies, tooling and fixture selection and design, as well as plant and equipment layout.