Elliott Develops New FLEX-OP(R) Hydrogen Compression Design
Elliott Group, a wholly owned subsidiary of EBARA CORPORATION, has developed a new, configurable compressor arrangement designed to enhance operational flexibility in hydrogen applications.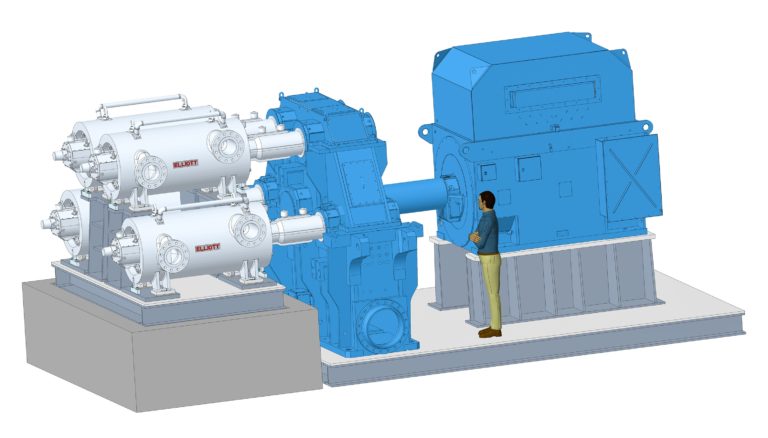 Elliott Develops New FLEX-OP(R) Hydrogen Compression Design. (Image source: EBARA CORPORATION)
Natural disasters caused by global warming have caused increasingly severe damage in countries around the world. Combating global warming requires a transition to carbon-neutral energy sources. In E-Vision 2030, EBARA Group set a goal of zero carbon emissions by 2050. Hydrogen is expected to be a new energy source in the transition to a decarbonized society. In August 2021, EBARA launched the Hydrogen Business Project under the leadership of EBARA's president.
The Flex-Op compressor system developed by Elliott can be used to meet the anticipated future demand for hydrogen. The Flex-Op is available in several configurations for the hydrogen supply chain, including "production," "transportation," "storage," and "use" of hydrogen. The Flex-Op compressor arrangements are based on Elliott's existing advanced compression technology.
"Hydrogen compression requires a large number of compression stages to achieve adequate head for a very light gas," said Dr. Klaus Brun, Elliott's director of research and development. "With the Flex-Op arrangement of three to four casings, up to two impeller stages fit into a footprint where traditionally only up to ten stages fit. This shrinks the linear footprint of the compressor section from 40 feet or more to about 10 feet, providing up to four times more compaction capacity within the approximate linear footprint of a compressor."
With the Flex-Op arrangement, the individual compressors can be connected in series or parallel, or both. The Flex-Op arrangement has many advantages over reciprocating or high-speed centrifugal compressors. It uses standard Elliott compressors and impellers, which are compact and easy to maintain and repair. It can start or stop individual compressors, switch between series and parallel operation, and run each compressor at different speeds.
Most importantly, when compressing pure hydrogen, the process gas cannot be contaminated by oil. Finally, the flex-op design is not limited to hydrogen applications, but is also suitable for energy storage and other process compression, refining and petrochemical applications. Elliott's research and development efforts are focused on advancing the technology for faster, smaller and lighter compressor designs for the coming hydrogen economy.