Electric Barrel Pumps – With Interchangeable Power Supply Units
The Bürkle barrel pumps are equipped with two different power supply systems: AccuOne driven by a high-performance rechargeable battery or EnergyOne with a power cable for direct connection to the electrical network.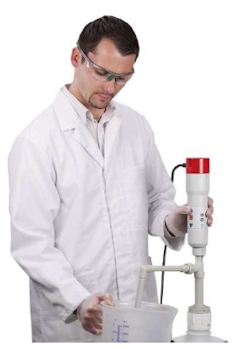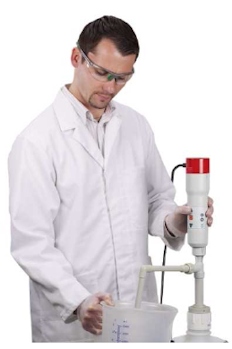 Bürkle
New feature: The power supply units are interchangeable
The rechargeable battery or the power supply unit are fitted with a clip lock and are removable. They can be exchanged quickly and easily. Thus AccuOne can also be operated with the power supply cable unit and EnergyOne can be operated with the rechargeable battery. With a replacement rechargeable battery as an accessory, you never have to wait for charging.
The drive can also be disconnected quickly and easily from the pump station with a clip lock. This makes it possible to use one drive for filling at several stationary pump stations.
The barrel pumps are designed for applications in which even very small amounts of liquid can be added to small containers with narrow openings.
The TouchPanel features a foil keyboard sealed off against dust, dirt and water. The keyboard can be used to regulate the flow rate continuously and precisely from 0.4 l/min to 12 l/min.
The light and powerful pumps are made of high-quality materials, PP and Hastelloy C, to ensure outstanding chemical resistance. This also makes them suitable for dispensing acids and bases.