EKKI Pumps Establishes Centre at Excellence at MCET
The First Regional Centre of Excellence for Pumps & Water related technologies was setup by EKKI Pumps at Dr. Mahalingam College of Engineering and Technology (MCET), Pollachi in collaboration with MCET & NPT institutions.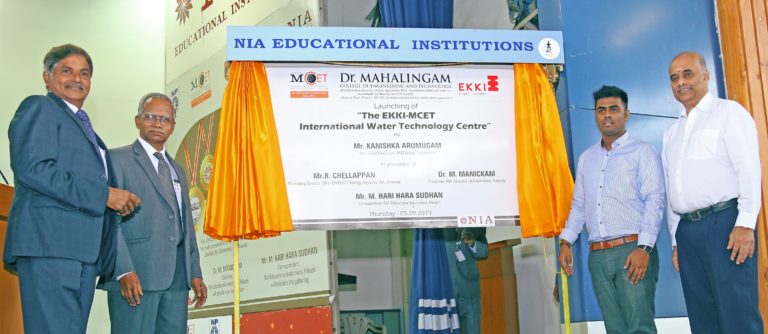 The opening of the EKKI-MCET International Water Technology Centre. (Image source: EKKI Group)
The EKKI-MCET International Water Technology Centre (EIWTC) is a global Centre of excellence for pumps & water related technologies. The Centre will lead on the exchange of best practices in teaching and research for the pump industry and water related technologies. EIWTC brings together pumps and water related research, teaching and consultancy.
According to Kanishka Arumugam, Director EKKI & Deccan Pumps
Our mission is to create a world class centre of excellence that focuses on making significant difference to the Pump Industry and Water related Technologies. The Centre is equipped with a state of the art product galleria, pump testing fluid factory and a knowledge transfer classroom.
We believe it is vital to encourage young people to consider a career in Pump Industry and Water related technologies. The only way we can do this is to provide them with the information and support they need to make an informed career choice.
In collaboration with MCET, we have setup The EKKI-MCET International Water Technology Centre (EIWTC) at an estimated cost of nearly 30 Lakhs (3 Million INR). Coimbatore is the pump city of Asia and the center will enable Research & Skill training space. We have seen how academic institutions and industry can work together successfully on the lines of Fraunhofer in Germany and the Warwick Manufacturing Group in England.
Collaboration with academia and lifelong learning will be a crucial component to help achieve our growth plans at EKKI and DECCAN. On this aspirational journey we have setup The EKKI MCET International water technology center (EIWTC). With the center of excellence, we are here to create a powerful brain trust partnership of academic rigour and industry relevance.
According to Dr.Manickam Mahalingam , Chairman NIA Institutions
Industries need to boost skill base through a closer combination of academic institutions and industry. We face intense competition from rivals and global consumer demand is volatile. To deliver on that pledge, we need the right skills base.
EIWTC is a fantastic example of how a manufacturer and academics can collaborate to bridge the industry s research gap. Our aim is to give staff and students even more access to the latest manufacturing technology and will see them work alongside our industrial specialists to research and solve many more real world precision and premium engineering challenges in the Pump and water Industry.
Dr.Manickam Mahalingam Chairman, NIA educational institutions , Professor Ramasamy , Mr.Chellapan , MD Swelect Energy Systems and Kanishka Arumugam, Director EKKI & Deccan Pumps Pvt Ltd where present at the opening of The EKKI MCET International Water technology Centre.