Ekki Acquires and Integrates Deccan Pumps
Coimbatore, India-based pumps and systems manufacturer Ekki Group s shareholders have completed the acquisition and integration of Deccan Pumps Private Ltd, a leading provider of sump submersibles, monoblocs and surface pumps.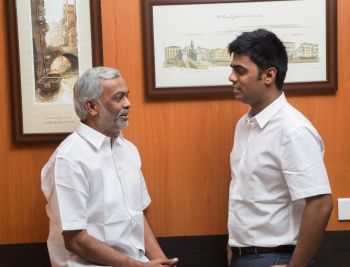 With an upbeat smile Mr. P. Arumugam, Chief Executive, Ekki Group along with Mr.Kanishka Arumugam, Director-Special Projects, Ekki Pumps (Image: EKKI Group)
Earlier, in 2013 Deccan Group s co-founder Mr. Arumugam.P successfully completed its spin off and acquired Deccan Industries assets and facilities through Deccan Pumps Private Limited . The ownership of the "Deccan" Trademark and Brand was also split between the two family s whilst spin off.
Post the recent integrated structure, Ekki Group is 100% owned the Arumugam's and has two companies, Ekki Pumps and Deccan Pumps Pvt Ltd, with two product brands Ekki and Deccan.
Post Integration, The Ekki Group is now a major producer of borehole submersibles, sump submersibles, monoblocs and surface pumps with more than 2500 models and pumps up to 120 HP. The group will continue to be headed by its founder and chief executive Mr.Arumugam.P who has been at the helm of affairs since 1981. The group s special projects will be headed by Mr.Kanishka Arumugam. The company will use "Ekki" as the master brand to sell pumps and systems internationally and also within India. In addition, will leverage its Deccan product brand in the Indian sump submersible market.
"The acquisition of Deccan's assets and the recent integrated structure represents a significant milestone in the continued growth of our business. We look forward to unlocking powerful new opportunities to serve our customers through expanded operational, sales and service platforms," said Arumugam.P, chief executive of the Ekki Group.
"At Ekki as a brand and company we aspire to become a globally respected & developed pumping systems provider from a developing country India" said Kanishka Arumugam, Director- Special Projects.