Edwards Wins Orders for Steel Degassing Equipment
05.10.2010
Edwards has won orders worth £1 million for its new generation steel degassing equipment in India. The dry pumping technology is replacing traditional steam ejector systems in vacuum degassing (VD) processes, enabling users to produce higher quality products with significantly reduced operating and energy costs.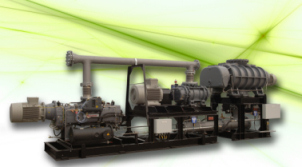 Edwards
Steel degassing modules will be installed at companies including Laxcon Steel and Bhawani Steel to run the VD and vacuum oxygen decarburizing (VOD) processes to produce degassed alloy steels and stainless steel used in automotive, electrical and power industries.
Dry vacuum steel degassing units are a greener solution than traditional energy-hungry multi-stage steam ejector systems backed with liquid ring pumps. As a result, customers can improve their environmental impact and carbon footprint through reducing CO2 emissions, water effluent and energy use. The total cost of ownership is low, offering potential energy cost savings of more than 90 per cent over steam ejectors.
The oil-free dry pumping system from Edwards consists of HV30000, HV8000 and IDX1300 pumps arranged in three stages, pre-mounted, piped and fully wired on a two-part skid. Each skid is capable of vacuum degassing 23 tons of steel and a number of skids can be mounted in parallel and integrated with the steel degassing tank to suit the required ladle size.
"These orders follow the successful installation of a system at Shyam Forging last year and highlight the growing demand for producing degassed steel in a more cost effective and environmentally friendly way," says Vikrant Sanglikar, Country Head - South Asia, Edwards. "Users can earn valuable carbon credits by using this green dry vacuum technology while producing higher quality steels and in larger quantities to better serve their customers."