Edwards Wins Order for Dry Scroll Pumps in Automotive Application
29.09.2010
Edwards has won an order with a major car manufacturer to supply compact XDS35i dry scroll pumps. The pumps provide high vacuum in a reliable fit and forget system, enabling users to reduce time and costs associated with maintenance.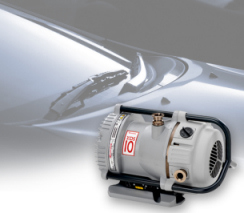 Edwards XDS Pump
During the automotive manufacturing process hydraulic and brake fluids are installed under vacuum, which ensures no air enters the system. The pumps are being used to provide the required vacuum in brake line evacuation.
The dry XDS35i dry scroll pumps are replacing oil sealed rotary vane pumps in this application as the dry pumping technology has many benefits over traditional 'wet' technologies. The innovative XDS design means the bearings are isolated from the vacuum so no bearings, bearing purges, grease or oil are under vacuum. As a result the pump is virtually maintenance free. The XDS is also an environmentally friendly choice as there is no oil to dispose of.
Another advantage of the XDS is that it maintains vacuum at levels during high humidity months. It provides flow rates up to 35m3h-1 and ultimate vacuum of 1 x 10-2 mbar. An inverter drive controls the motor characteristics which ensures the pump always runs at optimum speed and allows the user to control the pump remotely.
"XDS pumps are typically used in scientific and laboratory applications where cleanliness is key and a simple 'fit and forget' oil free pumping technology is required," says Dave Morris, vacuum business key account sales manager, Edwards. "Edwards was a pioneer in dry vacuum pumping technology, developing the first dry pumps 30 years ago. Since then our experts have brought the benefits of dry pumping to customers across all industries and we're delighted to have won this order for the automotive sector."