Edwards Wins Million Euro Order For Glass Coating Vacuum System
Edwards has won an order worth more than one million Euros to provide vacuum pumps for an in-line glass coater for Interpane, the German flat glass manufacturer. In addition, the global vacuum specialist has secured a service contract worth 100,000 Euros.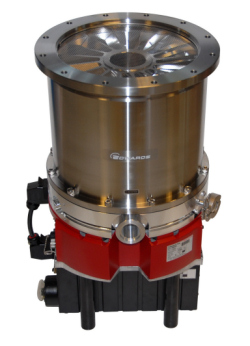 Edwards
Edwards will supply a total vacuum system, which includes all turbo pumps (80 iXA2205) and all mechanical pumps (two HV8000 / 607 / IDX1300 load lock systems), plus 14 EH boosters and four GV dry pumps for turbo support of the process chambers.
The company had already worked with Interpane on a glass coating system for manufacturing architectural glass. Edwards carried out an 'onboard control' development programme for the turbo pumps, and provided an STPiXA2205 beta with Profibus which ran a successful trial on a production glass coater for a year, until September 2008.
Interpane then announced a new project to build a new float glass production line and coating system. In addition to the onboard iXA2205 they needed a solution for the load lock pumping to achieve short cycle processing.
Edwards has been at the forefront of computer modelling of vacuum pump performance with its PumpCalc software for many years. The more recent introduction of the Transcalc software has enabled much more accurate prediction of the very transient behaviour of pumps and associated volumes for short cycle load lock applications.
Interpane needed to evacuate 1100 litres in 20 seconds to achieve 0.02mbar. Edwards considered different solutions in the large dry pump portfolio and was able to show that a single three stage pump line using HV8000 and a Stokes 607 mechanical booster supported by the IDX1300 screw primary pump would meet the need with an appropriate safety margin.
"We have been delighted with the results to date," said Vic Cheetham, European Sales Manager – Industrial, Edwards. "As a global manufacturer we are able to work closely with customers around the world to deliver total systems that meet their needs. Interpane was particularly impressed by our innovation using a reduced number of pumps to deliver the rapid evacuation they required."
Delivery will be completed by June 2009 and will be part of a system to be commissioned in December 2009.
About Edwards
Edwards (formerly BOC Edwards) is a leading supplier of integrated solutions for the manufacture of microelectronics devices, including semiconductors and flat panel displays. It is also a world leader in vacuum technology for industrial, scientific, process, and R&D applications. Edwards employs around 3,600 people globally, in the design, manufacture and support of high technology vacuum equipment. Edwards invented the concept of the commercial oil-free 'dry' vacuum pump and now supplements this with a wide range of other pumping technologies as well as related products and services.