Edwards Wins Major Order For UK Bioethanol Plant
Leading vacuum technology company Edwards has won a major order to supply liquid ring vacuum pumps to a new bioethanol plant being built in the UK.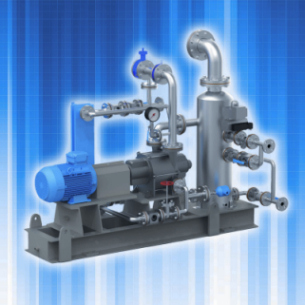 Edwards
The plant will produce a significant part of the UK's forecast demand of bioethanol per year - from locally grown wheat. Although initial production will be bioethanol, the partners will look at the feasibility of converting it to biobutanol once the required technology is available.
Edwards' experience in other biofuel projects around the world and the company's technical capabilities were instrumental in securing the contract. The company is delivering two LR1A200, six SHR2950 and four LR1A1200 pumps to the plant and the systems will be installed in several processes, from general vacuum duties to the molecular sieve dehydration units.
Edwards will supply a combination of single and two-stage liquid ring pump systems, all manufactured in stainless steel and with capacities of 200 m3h-1, 1200m3h-1 and 1600m3h-1. They have a unique ability to handle wet gases without damage to the pump and can operate across the complete vacuum range, from atmospheric pressure to 30 mbars, with a relatively constant pumping speed. They are also tolerant of small particles in the gas stream, have a low noise and vibration level and low maintenance requirements.
"The biofuels sector is developing rapidly as market demand grows and our products are ideally suited to this industry," explains Marinella Varallo, general manager – business development, Edwards GV Businesses. "This is an exciting win for Edwards which builds on our biofuels experience and enhances our position in the industry as an expert supplier able to offer customers a variety of reliable and efficient products to meet their needs."