Edwards Wins Gold at the 2012 International Business Awards
Edwards Group Limited has been awarded a Gold Stevie Award in the prestigious 9th annual International Business Awards.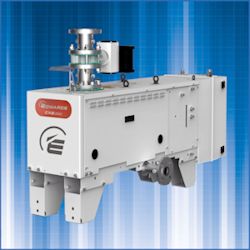 CXS dry vacuum pump (Image: Edwards)
Edwards beat off stiff competition from across the globe to be named winner of the "Best New Product or Service of the Year - Industrial Products & Services" category for its class-leading CXS dry vacuum pump.
The CXS is the latest generation dry vacuum pump for the chemical and pharmaceutical industries and builds on Edwards' strong record of innovation. Since its introduction in 2011, it has set new industry standards for reliability, performance and control.
Two elements of the cutting-edge CXS set it apart from competitor pumps. The novel tapered screw technology facilitates excellent liquid and solids handling leading to high operational reliability while providing deep vacuum down to 10-3 mbar. The range of built-in control and safety features makes the CXS easier and cheaper to install when compared to some pumps currently available on the market.
Edwards believes this is the first "plug and pump" system, an advance that has made 'vacuum on demand' a reality. The development of the CXS has proved to be a crucial tipping point for vacuum, taking the technology from 'specialist equipment' to 'utility'.
Commenting on the award, Matthew Taylor CEO at Edwards said: "2012 has truly been a golden year for Edwards. After being honored with a momentous seventh Queen's Award earlier this year for our nEXT turbomolecular pump, and then successfully listing on the NASDAQ market, we're delighted to build on our success with a Gold Stevie Award.
"To receive this accolade for the CXS, so soon after its launch, is testament to the hard work and expertise of all those at Edwards who were involved in its conception. This award sets the CXS' credentials beyond refute. To be standing shoulder to shoulder with our fellow Stevie Award winners places Edwards at the forefront of international innovation."
The International Business Awards 2012 awards saw over 3,200 entries being submitted from more than 50 countries. The winners were selected by a panel of specialist executives in recognition of their commitment to international excellence in innovation, growth and design.
"Entries to the IBAs grew substantially this year," said Michael Gallagher, president and founder of the Stevie Awards. "Despite slow economic conditions in much of the world, the quality of nominations was outstanding, demonstrating that there are many companies that are innovating and growing regardless. We're looking forward to celebrating this year's Gold, Silver and Bronze Stevie winners at our gala event in Seoul on 15 October."