Edwards to Supply Liquid Ring Pumps For New Power Station in India
Leading vacuum technology company Edwards has won a multi-million Euro contract to supply liquid ring vacuum pump systems for three 660MW generating units at the Super Thermal Power Project Stage 1 at Sipat, State of Chattisgarh, India.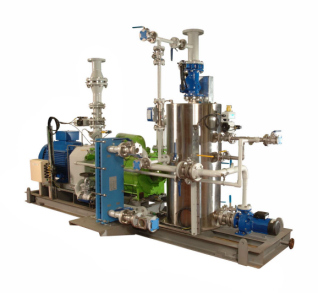 Edwards
The contract has been awarded by OJSC Power Machines of Russia, who are supplying the majority of the equipment for the power station. It will be run by NTPC, India's largest power generating company.
The SHR series liquid ring pumps have capacities from 500 to 5000 m3h-1 and will be used for air evacuation from the main and drive turbine condensers, ensuring that they remain at the required operating pressure for maximum turbine efficiency. The systems are based upon Edwards' standard power packages, customised to meet the customer's specific requirements, and are scheduled to be delivered over the next few months.
The liquid ring pump systems comprise a two-stage vacuum pump with a spheroidal graphite impeller to improve efficiency and extend life. They have a unique ability to handle wet gases without damage to the pump, making them ideal for condenser air extraction, where the incoming non-condensable air load is saturated with steam.
The systems can operate across the complete vacuum range, from atmospheric pressure to 30 mbar, with a relatively constant pumping speed. They are also tolerant of small particles in the gas stream, have a low noise and vibration level and low maintenance requirements.
Edwards' experience in this field and technical capabilities were instrumental in securing the contract. Edwards products are already installed in other NTPC power stations across India, and the company provides strong technical support in both Russia and India.
"The Edwards pump packages are ideally suited to for this application, and will integrate very effectively with the turbines and condensers we are supplying, helping us to maximise condenser and turbine efficiency," explains Olga Dranishnikova, head of procurement at Power Machines. "We look forward to working with the Edwards team in Russia and India to deliver this project to NTPC."