Edwards Opens New Facility in Taiwan
Edwards Limited has opened a new service centre and sales office at Jhunan in Taiwan to support its many customers in the industrial, solar, semiconductor, flat panel and rapidly growing LED sectors.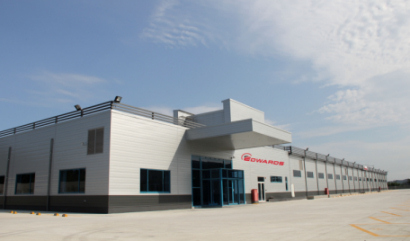 Edwards: New Facility in Taiwan
All employees based at the company's existing premises in Toufen will transfer to the new larger facility, which is closer to its major Taiwanese customers.
Edwards is market leader in supplying dry and turbo pumps to the semiconductor, flat panel and silicon solar industries in Taiwan with more than 20,000 pumps installed. The company is also market leader in providing abatement products to the Taiwanese semiconductor, flat panel and solar industries and has installed over 1,200 gas abatement systems locally.
Edwards' Taiwanese business has had an extremely successful start to 2010, with record orders already received from all market sectors, and the new facility will help the company further develop its business. It will initially employ approximately 180 staff and will provide field service, sales, customer care and remanufacturing services for Edwards' products as well as supporting solar customers across Asia.
The 5,000m2 building is located at Kuan Yian Industrial Park in Jhunan Town in MiaoLi County. Roger Wu, Edwards country manager for Taiwan, explains: "Our new facility includes a state-of-the-art remanufacturing and service operation, providing improved turnaround time to customers, and also enables us to hold support stock and spares closer to our users."
The facility has been designed and constructed using lean manufacturing methodology. The use of Value Stream Mapping and understanding of TAKT time (the pace of production required to meet customer demand) has led to the development of high volume multi-product flow lines which remove workflow waste and provide a platform for further growth and flexibility.
The centre already has obtained ISO14001 and two EHS certificates, and is working towards achieving ISO9001:2008 quality certification in 2011. The building has many environmentally friendly features, including low power consumption lights which switch off automatically, and over 80 per cent of its water is recycled.
"By 2012 at least 60 per cent of Edwards' business will be in Asia," said Neil Lavender-Jones, president Asia Pacific of Edwards. "Taiwan is a key market for us and our investment in this new service centre demonstrates our commitment to our Taiwanese customers. By having a dedicated service facility in Taiwan we will be able to provide a faster turnaround for our products, which is vital to our customers in these high growth sectors."