Edwards Opens Its First Volume Manufacturing Site in Mainland Europe
Edwards has officially opened its first volume vacuum pump manufacturing facility in mainland Europe.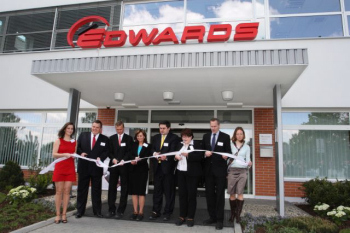 The company has invested approximately £47 million in the state-of-the-art manufacturing site at Lutín, Czech Republic, enabling it to continue to deliver high quality vacuum pumps and systems for the most demanding of processes in industrial, pharmaceutical, chemical and scientific markets.
The 20,000 m² site is the new global centre for manufacturing the company's range of vacuum pumps that are used across a variety of applications, from steel manufacturing to centrifuges in a laboratory. It includes the latest manufacturing equipment together with lean manufacturing techniques to reduce production times.
The new site in Lutín brings Edwards' total number of manufacturing sites around the world to seven, including sites in the UK, Korea and Japan. In addition, the company has 12 service centres situated around the world, including one in Brno (Czech Republic) and one in Munich (Germany).
"We are delighted to open our new world class facility in Lutín, which will help sustain our leadership of the global vacuum market," says Matthew Taylor, chief executive officer at Edwards. "Our significant investment in this new site enables us to manufacture closer to customers in central Europe, which improves our response times. It also allows us to raise the bar in sustainable manufacturing, product quality and performance."
Through investing in the site, Edwards has created 600 jobs in the region and there are many opportunities for local graduates to become part of the global vacuum technology company.
"We are excited to open this new site in Lutín and to become part of the local community," says Wolfgang Binder, European general manager at Edwards. "Our expertise in vacuum technology spans more than 90 years and with approximately 200,000 pumps installed throughout Europe we enable our customers to reduce their costs and their carbon footprint, helping them become even more competitive in today's global markets."
The company's existing and new products for general vacuum will be manufactured at the site. These include the new nEXT turbomolecular pump, which is critical for electron microscopy and mass spectrometry systems, and the GXS dry pump, which delivers exceptional vacuum performance in harsh industrial processes. In addition, the company will be manufacturing its new CXS dry vacuum pump for chemical and pharmaceutical processes which will be launched later in the year.
Picture: From left to right: Lenka Simeonova, Site Administrator at Edwards; Matthew Taylor, Chief Executive Officer at Edwards; Jan Vymazal, General Manager at Edwards; Božena Sekaninová, Senator for Prostejov district; Martin Novotný, Mayor of Olomouc; Pavlína Kulhánková, Ministry of Industry and Trade of Czech Republic, Department of Environmental Protection; Ron Krisanda, Chief Operations Officer at Edwards; Iva Matulova, Marketing Specialist at Edwards (Photo: Edwards)