Edwards Launches Innovative Chemical Dry Vacuum Pump
Edwards will be launching its highly anticipated new CXS dry pump range which delivers exceptional vacuum performance in harsh chemical, petrochemical and pharmaceutical processes.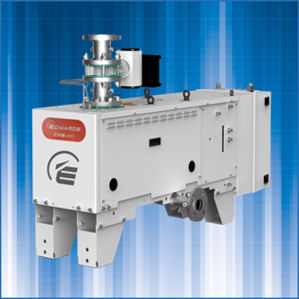 CXS Series (Image: Edwards)
The innovative CXS pumps are expected to set a new standard for dry pumping in the chemical industries. They feature cutting-edge tapered screw technology, have excellent reliability, are simple to install and use, environmentally friendly and give improved liquid and solids handling. They require minimal maintenance and as a result are economic to run.
CXS pumps provide fast pump down and give ultimate vacuum down to 10-3 mbar which results in optimum performance in a variety of applications such as distillation, drying, evaporation, reactor service, house vacuum, solvent recovery, crystallization and filtration.
They are robust and reliable even in harsh pumping environments, with the ability to pump up to one litre of liquid per minute continuously and up to 25 litre slugs without stopping. The pumps are independently certified for use in hazardous environments to ensure safe pumping of flammable gases. They also pump corrosive gases without corroding.
"This new generation of dry pumps combines the high performance technology we have developed in the harsh and demanding world of semiconductor vacuum with our long and successful experience of providing vacuum to the chemical and pharmaceutical industries," says Dr Don Collins, chemical market development manager, Edwards. "There are two different models in the range initially – CXS160 and CXS250 – which give nominal capacities of 160 m3h-1 and 250 m3h-1 respectively and I'm delighted customers can benefit from our advanced technology and applications expertise for highly reliable, efficient and easy-to-install and use vacuum systems."
To see a demonstration of the new CXS and meet Edwards' experts visit Stand 309, Hall 8 at Powtech 2011 (from October 11-13 in Nuremberg).