Edwards Is Shortlisted for Pump Industry Awards 2012
Edwards has been shortlisted for the prestigious "Technical Innovation of the Year" category at the 2012 Pump Industry Awards for its innovative range of GXS dry vacuum pumps.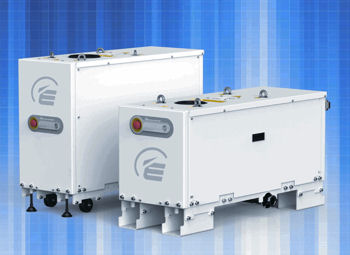 Edwards
This accolade is awarded to the most innovative pump or pumping technology introduced into the market in the last 12 months.
Featuring cutting-edge dry screw technology, the compact GXS dry vacuum pump delivers optimum vacuum performance in high volume industrial process applications. Compared to competitive products, the GXS provides faster pump down and gives ultimate vacuum typically down to 5x10-4 mbar (3.8x10-4 Torr) without purge.
Virtually maintenance free and with a long service interval of up to five years, the GXS is the most robust and economical vacuum pump for industrial applications. The pump has already been selected by leading manufacturers for LED, solar coating and crystal pulling processes.
With reduced gas and power consumption, the GXS enables users to minimize their environmental impact. The motor is matched to the inverter which reduces the cost of ownership by giving up to 15 per cent efficiency improvement compared to current designs.
"We're thrilled to have been nominated for this prestigious award," says Owain Charles, Edwards product manager – GV dry pumps. "Edwards is committed to investing in outstanding innovation and we're proud that the GXS is being recognised by customers and the industry alike. This is the second consecutive year that we have been shortlisted in this category, and after being named as a finalist in last year's awards for our scientific nEXT turbomolecular pumps, we're hoping to go one better in 2012."
The results will be announced on the 22nd March 2012. Users can vote for the winners of each category from the 24th January 2012 until 5pm on the 24th February 2012.