Edwards Is Shortlisted for Pump Industry Awards 2011
Edwards new nEXT turbomolecular vacuum pump has been shortlisted for the prestigious 'Technical Innovation of the Year' award at the 2011 Pump Industry Awards. The accolade is given to the most innovative pump, pumping system or other pump related product introduced onto the market within the last 12 months.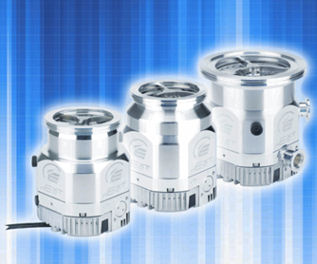 nEXT turbomolecular vacuum pump (Image: Edwards)
The turbomolecular vacuum pump is critical to scientific instruments, including electron microscopy and mass spectrometry systems and is integrated into the equipment to create the right environment for scientists to perform detailed material analyses. The compact design means the pumps fit together neatly in high product density applications.
The nEXT pumps use innovative technology to offer high performance and reliability in a compact size, as well as easy user serviceability. The pumps also feature a green mode which helps users reduce their carbon footprint and save energy costs.
The key innovation is a novel compact metal spring damper which supports the lower mechanical bearing. This significantly reduces vibration transmitted to the pump body and as a result the pumps do not need high-speed balancing during manufacture or service. It also enables pumps to be serviced by the user in situ which minimises downtime and significantly reducing operating costs. This is a major advantage because ordinarily turbomolecular pumps are returned to a service centre for service.
Edwards' nEXT pumps are also available in a variant suitable for sensitive electron microscope applications. For these applications, 'L' variant pumps have an even lower vibration signature and reduced levels of radiated magnetic field.
"We are delighted to be shortlisted for this coveted award which recognises the greatest developments in the industry over the past year," says Ian Olsen, global market sector manager - Scientific, Edwards. "Edwards is committed to investing in new technologies and since its launch, the nEXT has been extremely well received by customers. Being shortlisted further demonstrates that our innovation is among the best of 2011 and we are honoured to be recognised by our industry peers."
End users can vote for the winners of each category online until 25th February 2011. To vote for Edwards' nEXT turbomolecular pump visit http://www.pumpindustryawards.com/vote/