Educational Commitment at Xylem
Educational programs are key factors at Xylem. As a response to the need of improving knowledge, competences and skills of internal and external audience, Xylem regularly organizes seminars and trainings held by a professional training team.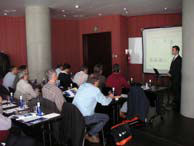 On purpose of implementing lab and classes activities, the Headquarters for Residential and Commercial Water EMEA located in Montecchio Maggiore, Vicenza, Italy, own Lowara Training Center, the prestigious facility dedicated to learning sessions, presentations of new products and visits to the local production area.
Facing the need of getting closer to customers and external audience all over the EMEA region, Xylem offers a calendar of workshops held by expert trainers in external classrooms and hotel meeting centers exchanging technical skills. Following the need of implementing the specific knowledge on Lowara products, recently Dario Menini, Intercompany Sales Development Manager, hold two seminars dedicated to an audience of more than 40 attendees from various market segments companies such as, for example, installation and maintenance, distribution and designers and original equipment manufacturers. Seminars in Spain were hold at Hotel Porta Fira, Barcelona and at Hotel Boston, Madrid. "The most significant achievements of these initiatives are highlighted by the feedback collected within the audience which interactively joined the classes with great involvement raising many interested questions about the lesson", declared Dario Menini about the recent successful learning seminars in Spain.
Picture: "Xylem Educational Seminars in Spain": Xylem invests in educational trainings and in the creation of a challenging and learning work environment generating high utility values and tangible benefits. Picture relates to seminars hold October 26th, 2011 at Hotel Porta Fira, Barcelona and October 27th, 2011 at Hotel Boston, Madrid.