Eclipse 125: Non-Metalic Sealless Gear Pump
Pulsafeeder, Inc. introduces the newest member to the innovative Eclipse, non-metallic magnetically driven gear pumps family, the Eclipse 125 Series Pump.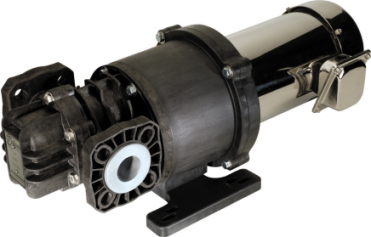 Pulsafeeder, Inc.
With over seventy years of pump and pump technology expertise, the Eclipse pumps were designed to be rugged, durable alternatives to high cost, high alloy gear pumps used to pump high corrosive, restricted, regulated and toxic chemicals.
The Eclipse 125 with its wider drive gear, idler gear, and liner, allow you to increase your flow but without the danger of overspeeding your pump. Crafted out of engineered fluoropolymer, carbon graphite, and graphite impregnated silicon carbide bearings, the Eclipse 125 can handle the most difficult corrosive fluid applications.
Intuitive in design, the Eclipse 125 has a total of only 16 parts that are self aligning and allow for easy maintenance and ease in ordering. The pump can be entirely serviced from the front with minimum tools required. Magnetically driven, there is zero leakage and no expensive seal flush systems are required. Universal motor
adaptors mate up to multiple NEMA and IEC motors; universal flanges mate to both ANSI and DIN flange connectors.
The Eclipse 125 Series Pump will give you years of reliable, durable service with easy maintenance. It is the intelligent choice over expensive, high alloy gear pumps. Eclipse, the power of design innovation.
About Pulsafeeder Inc.
Since 1936 Pulsafeeder, Inc. has been a recognized leader in the world of pumps and pump technology. With innovative product lines such as the Eclipse, Pulsa/Pulsar, Isochem, ECO, Eastern, Foster, OMNI, and our chemical feed skids such as the Polyfeeder, we have the expertise to provide a total solution to our client s needs. Our markets include but are not limited to water, wastewater, chemical, petrochemical, agricultural, food and beverage, power and energy and pharmaceuticals. Pulsafeeder s global network of representatives and distributors, assures that local support is available for total customer satisfaction. Pulsafeeder, Inc. Engineered Products Division is headquartered in Rochester NY., and is an IDEX Fluid and Metering Business.