EBARA's Vietnam Plant obtains JIS Mark Certifications for its cast products
EBARA Corporation's overseas group company, Ebara Vietnam Pump Company Limited*1, in order to meet high product standards required in the Japanese market, passed JIS Mark*2 certification reviews by Japan Quality Assurance Organization (JQA) on casting and is now certified with "JIS G 5121" and "JIS G 5502".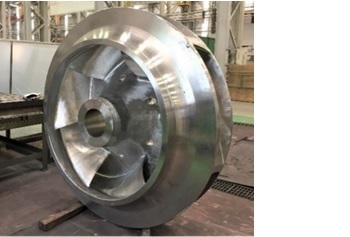 Stainless Impeller. (Image source: EBARA Corporation)
Background and Objectives
EVPC has its headquarters and plant in northern Vietnam's Hai Duong Province(approx. 50km east of Capital, Hanoi)and manufactures and sells custom pumps, and also imports and sells standard pumps in Vietnam. Its main business is to produce cast products which are highly difficult to manufacture such as two-phase stainless impellers for custom pumps for overseas markets. As EVPC has now been certified to meet the high product standards required in the Japanese market, we will make further efforts in expanding our sales in the global markets with our reliability and high quality as our strengths.
Summary
For the certification, "Plant Review", "17025Inspection*3", and "Product Test" were carried out. EVPC is now certified in the following scopes.
| | | |
| --- | --- | --- |
| Standard Number | Name | Types |
| JIS G 5121 | Stainless Cast Steel | SCS1、SCS2、SCS5、SCS6、SCS13、SCS14、SCS16 |
| JIS G 5502 | Spherical Graphite Cast Iron | FCD400-15、FCD450-10、FCD500-7 |
Future plan
Vietnam's economy continues to grow steadily as a prospective market in Asia next only to China, and its pump market demand also remains in a stable environment. EVPC will, in accordance with regional strategies in the global markets set forth in EBARA's long-term vision "E-Vision2030", strengthen all industrial areas including agriculture and infrastructure to further solidify the EBARA brand's presence in all across East Asia. Utilizing the experience we gained through this certification, we will, going forward, make efforts in improving product qualities and increasing sales and contribute to building safe and secure social infrastructure and enhancing people's lives.
The EBARA Group will contribute to the society and the resolution of social issues toward the Sustainable Development Goals (SDGs) through our business, while simultaneously increasing the social, environmental, and economic value.
*1: Ebara Vietnam Pump Company Limited
In 1995, EBARA Hai Duong (EHD) was established as a joint venture with Hai Duong Pump Manufacturing Joint-Stock Company. In 2011, EBARA acquired 100% ownership of EHD and the name was changed to EBARA VIETNAM PUMP CO., LTD (EVPC) in 2012 and it remains today.
*2: JIS Mark
Marks given to products conforming to Japanese Industrial Standards. In compliance with Japan's Industrial Standardization Act, only the business operators who have been certified by a registered certification body are allowed to display on their industrial products.
*3: 17025 Inspection
Inspection to verify if the testing facility has the ability to satisfy subject parts of JIS Q 17025(General requirements for the competence of testing and calibration laboratories).