Ebara Launched New Exhaust Gas Treatment Equipment
Ebara Corporation announces the launch of a new line of exhaust gas treatment equipment used in the manufacturing process of semiconductors: the TND-Single Model (combustion + water treatment) and the TND-Single Plus Model (water treatment + combustion + water treatment).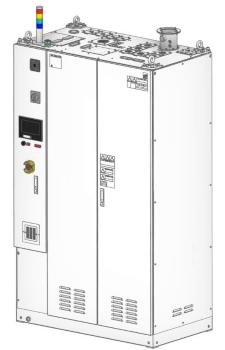 Illustration of TND-Single Model (Image source: Ebara Corporation)
As technologies of communication and robot advances rapidly associated with the progress of IoT and AI, demands such as for higher efficiency in exhaust gas treatment and extended intervals between maintenance with deposit measures are increasing, in the process of semiconductor manufacturing. With the TND Series, Ebara develops a new exhaust gas treatment equipment which is specialized for the needs of customers. The sales activities are focusing on Japan, North America, and Taiwan.
Product overview
(1) Equipped with a new type of burner, it enables highly efficient incineration with reduced loss of thermal energy and achieves low NOx and low CO.
(2) Auto deposit removal function, wet wall form function, and inner tank stirring function extend the maintenance interval (3 to 6 times longer than existing products1).
(3) The addition of a water treatment process before the burner removes process gasses that generate a large amount of deposits, such as SiN and TiN, significantly reduce the amount of powder generated inside the burner.