Ebara Holds Seminars for Flood Control Pumps in Thailand
Ebara held seminars on Flood Control pumps from August 24 to 31, at Bangkok Thailand. This was the 26th time Ebara held seminars in cooperation with Asian Institute of Technology (AIT). A total of 56 participants from seven Southeast Asian countries attended, Thailand, Sri Lanka, Vietnam, Philippines, India, Cambodia, Laos.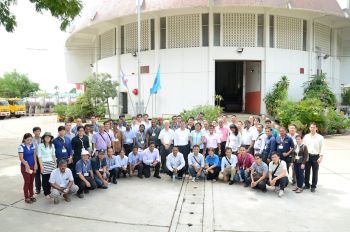 In front of the RAMA IV drainage pumping station (Image: Ebara Corporation)
In recent years, Southeast Asian countries have suffered large-scale flood damage caused by unusual weather conditions. Flood control has become a priority issue in preventing similar damage in the future. The seminars highlighted technologies related to flood control pumps, with lectures on technologies needed to plan large drainage pump systems, inspection tours of the drainage pumping stations that protect Bangkok from flood damage, and various other lectures that incorporated video and case studies.
Ebara has continued to deepen its relationships around the world through the provision of technical guidance and other forms of international cooperation. Since the launch of the Ebara Hatakeyama Memorial Fund in 1989, it has organized more than 250 seminars at different locations around the world, welcoming upwards of 12,000 participants. This year, Ebara is set to give eight seminars in locations such as Vietnam and Myanmar.
Ebara will continue to contribute to the development of Southeast Asian countries not only by offering pumps and other products and services, but through technical seminars and other international cooperation activities.