Ebara Corporation Held Pump Seminar in Cambodia
Ebara Corporation held Ebara Hatakeyama Memorial Fund Pump Technology Seminar over two days on February 21 and 22, 2019 at the Institute of Technology of Cambodia (ITC) in Phnom Penh, Cambodia. More than twenty of such seminars have been held in Cambodia so far.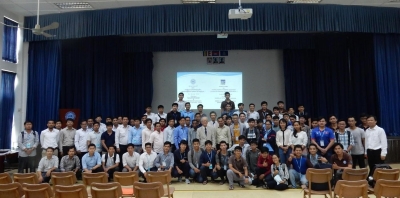 Seminar participants at the Institute of Technology of Cambodia (ITC) (Image: Ebara Corporation)
Background
Ebara has deepened mutual understanding in various countries around the world through international cooperation such as technical guidance. Since Ebara Hatakeyama Memorial Fund was established in 1989, Ebara has held more than 270 seminars around the world which have been attended by more than 13,000 people. As agriculture is the primary industry in Cambodia, where the latest seminar was held, many pumps are used for irrigation and other purposes. In addition, urbanization in recent years has brought an increased demand for water supply and sewerage pumps.
Overview of the Seminar
106 people attended the seminar, including members of the Ministry of Agriculture, Forestry and Fisheries, Phnom PenhWater Supply Authority, water supply officials from local governments and university students (mainly senior students studying engineering). The seminar included lectures on basic pump knowledge, basic planning for pumping stations and energy saving measures. A tour of a drainage pumping station in Phnom Penh was also held. As central Phnom Penh is on relatively lower ground than the surrounding area and undergone population increases in recent years, the development of urban drainage facilities has become an issue. Last year Ebara delivered five 800mm-diameter drainage pumps (Model: 800VSP, Rated Operating Point: 100m³ / min. x 6m x 150kW) to the pumping station that was toured this time.
Future Developments
In addition to providing products and services such as pumps, Ebara will continue to contribute to the development of Southeast Asia countries through international cooperation activities including these technical seminars. In 2019, Ebara plans to hold a total of six seminars in locations such as Thailand and Vietnam. The Ebara Group is striving to further enhance its corporate value based on its medium-term management plan and by tackling key ESG issues in an effort to achieve the Sustainable Development Goals (SDGs).