EasyClean from Aesseal Helps to Improve Hygiene Standards
Aeasseal is pleased to announce the launch of the patent pending EasyClean seal support system. EasyClean is a cost effective solution to improve hygiene standards in the Food, Beverage, and Pharmaceutical industries.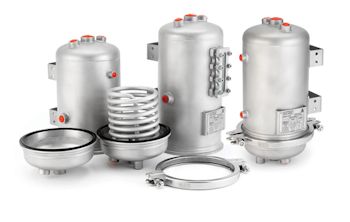 EasyClean™ from AESSEAL®
Despite the requirements of these industries to maintain a high level of hygiene in the production lines and throughout their factories, it is frequently the case that the seal support systems harbour dirt and bacteria on the interior of the main vessel. This is due to their inherently enclosed design, which makes them difficult to inspect, clean and maintain high levels of hygiene. The EasyClean vessel, developed by Aeasseal, is the ideal solution for industries, which require more control over the level of hygiene in their plants. EasyClean has a detachable lower section, which enables the vessel to be taken apart for inspection and cleaning. This removable lower section, offers manufacturers the opportunity to quickly inspect and clean their systems without severely impacting on costs, production or product quality, whilst also eliminating the harmful build up of dirt and bacteria. Leading the market in ease of use and affordability, EasyClean sets new standards in support system capabilities. EasyClean is both a convenient and cost effective solution allowing manufacturers to further reduce the risk of product contamination in industries where a high standard of cleanliness is essential.