Easy-to-Service Mechanical Seal by KSB for Waste Water Pumps
Frankenthal-based pump manufacturer KSB has developed a new double mechanical seal in tandem arrangement which is especially well suited to the particular requirements of dry-installed and wet-installed waste water pumps.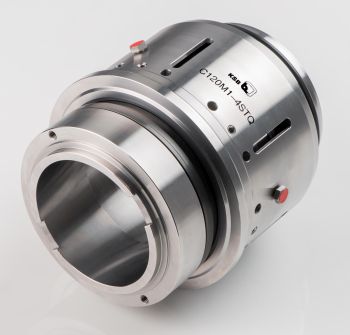 The new 4STQ mechanical seal is a double mechanical seal module whose installation and removal are extremely straightforward (Image: KSB Aktiengesellschaft)
During development of the 4STQ – a double mechanical seal module – KSB's engineers strove to ensure that its installation and removal remained as straightforward as possible. Assembly fixtures and fastening bolts are not required, and the seal's modular design minimises downtime during maintenance inspections as well as preventing faulty reassembly. A multi-spring arrangement provides required pre-loading for the primary rings themselves. The multiple springs are located outside the fluid handled in the oil reservoir so that the individual springs are protected from contamination. As the seal installation space and the mechanical seal are optimally matched, the seal faces are exposed to minimal wear and the sealing elements offer long service lives. The primary rings are made of silicon carbide as standard, with tungsten carbide also available on option. All metal components are manufactured from corrosion-resistant stainless steels such as 1.4122 or 1.4571. FKM elastomers are used for the O-rings. The new 4STQ is suitable for all operating conditions permitted for the pump on which it is fitted. Seals of this type are already being used with great success in waste water treatment plants in Germany and South America.