EagleBurgmann´s New Carbon Floating Ring Seal
With the WD200/500 series, EagleBurgmann Espey introduced a carbon floating ring seal on the market that has been installed in nearly all machine types with rotating shaft, e.g., in fans, steam turbines, mixers, or mills.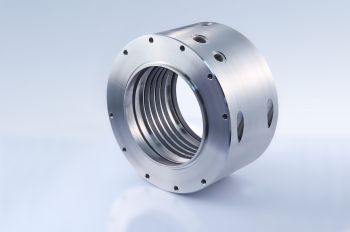 EagleBurgmann Espey WD200-50 (Image: EagleBurgmann)
This seal type is used in all important industries such as the chemistry, metal, cement, and food industry (with FDA certificate), power station technology and mechanical and plant engineering. They typically seal all kinds of gases, flammable (Atex), acidic, toxic, vaporous, liquid mist, oil mist, creeping oil or water.
The WD200/500 is very user-friendly thanks to its divided housing and segmented seal rings. Seal assembly or seal ring replacement occurs without having to first dismantle machines parts, such as the motor or gears. The Espey WD200 is fitted on the process or product side. The seal ring has a precisely calculated gap to the shaft that enables a defined buffer gas flow into the process compartment. This securely prevents process gas from escaping into the atmosphere. The Espey WD500 seal ring type is fitted to the atmosphere side. The seal rings with overlapping mortised joints slide on the shaft and are self-adjusting. This reduces the radial gap to the shaft. The volume of leakage as well as the consumed buffer gas to the outside is extremely low.
The seal components are not mounted on the shaft which helps prevent additional shaft vibrations. A short axial installation length provides the customer with potential savings in the designing of his machine and also prevents vibrations. The seal housing can be executed with diverse connection bores: among other things, for the feeding of buffer gas, the injection of a flushing medium as well as for the selective removal of residual gas and condensate to prevent leakages to the environment.
Operating range:
Shaft diameter: d = 45 ... 340 mm (1.77" …13.39")
zOperating pressure: p = vacuum ... 3 bar (44 PSI) abs. (subject to circumferential velocity)
Operating temperature: t = -120°C... 500°C (-184°F … +932°F) (carbon), -120°C ... 150°C (-184°F …+302°F) (PTFE-Compound)
Sliding velocity: vg = max. 40 m/s (131 ft/s)
Radial play: ±2.5 ... 5.0 mm (0.09" …0.20")
Axial movement: theoretically infinite
Recommended wear protection: >58 HRC