E.J. Bartells Installs Jet Edge Waterjet Cutting System to Increase Productivity
Founded in 1923, E.J. Bartells provides thermal and acoustical-related products ranging from -350ºF cryogenics material to 3,000ºF high-temperature refractory material to contractors and end users in nine Pacific Northwest and Western states.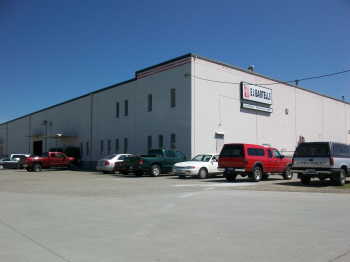 E.J. Bartells facility in Spokane (Image: Jet Edge)
The company is headquartered in Renton, Wash., and has several branch locations in Washington, Oregon, Alaska, Utah, Colorado and Montana.
E.J. Bartells offers a diverse range of insulation, refractory and HVAC products and services to a variety of industries, including commercial, industrial, and specialty fabrication and manufacturing. In addition to supplying thermal and acoustical products to contractors, end users and specialty applications, the company also provides mechanical insulation and refractory contracting services and offers commercial and industrial energy audits to help its customers reduce energy costs, improve efficiency and safety, and reduce emissions from equipment, buildings and facilities.
Rick Smith, E.J. Bartells president and CEO, noted that his company has used water jet cutting technology for several years to cut many different types of materials, from soft or light density products to heavy density products. Smith said his company decided to buy its newest waterjet cutting system from Jet Edge because the water jet manufacturer offered a system that came highly recommended by a trusted Jet Edge customer and greatly increased productivity over an existing system.
"We chose a Jet Edge Mid Rail Gantry after receiving positive feedback from other Jet Edge users," Smith said. "The flexibility of the equipment and operational differences that we saw compared to other water jet equipment was very impressive and the sales and support staff were exceptional. The follow up did not stop after installation. Brad Schwartz [Jet Edge regional sales manager] has been excellent. He's got an answer for you, and if he doesn't he will get you one."
Since installing its Jet Edge, E.J. Bartells has seen tremendous gains in productivity thanks to the Jet Edge system's two-click file changeovers, common line cutting, rapid traversing and easy pump maintenance, Smith explained.
"The timeframe for file changeovers and setup were drastically reduced in comparison to our other system," he said. "A part that used to take seven minutes to process now takes only two minutes to process, including loading, cutting and unloading. The other system uses static nesting so you have to back out of the user interface to set up your next program and you have to shut down the pump to set up your condition files. It is very time consuming. With the Jet Edge, your intensifier can be running and it's a two-click operation to get to the next file."
In addition to rapid file changeovers, E.J. Bartells's Jet Edge system can cut at 500 inches per minute, while its older water jet is capable of cutting at only 300 inches per minute. The Jet Edge system also utilizes common-line cutting to maximize productivity, and is capable of rapid traversing at 800 inches per minute to get the water jet cutting head out of the way for loading and unloading. Intensifier pump maintenance on the Jet Edge water jet system also is less time-consuming, with seal changes averaging 45 minutes versus a half-day on the older system. The Jet Edge water jet pump also features a remote start, which saves the operator time by allowing him/her to start the pump at the pump rather than walking back to the controller.