Dynapumps supplies a Water Storage Dam Pontoon Pump package to a major high-grade underground and open-pit operation
19.05.2020
Dynapumps designed, manufactured, and supplied the Water Storage Dam Pontoon Pump package to a major high-grade underground and open-pit operation.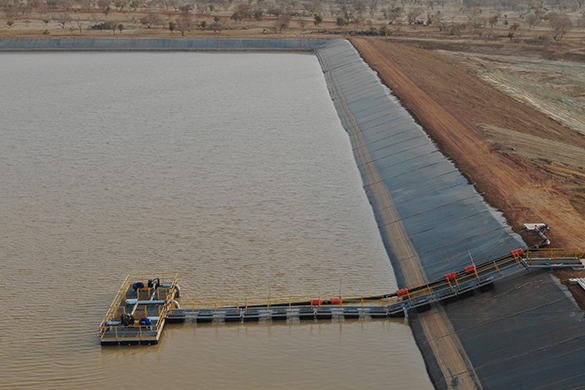 Dynapumps supplies a Water Storage Dam Pontoon Pump package to a major high-grade underground and open-pit operation. (Image source: Dynapumps)
The Water Storage Dam Pontoon Pump package included two pump sets containing a Pioneer PP86C17L71-HG Self Priming Pump fitted with a TECO 90kW 4 Pole electric motor via a Rathi LM 220-140 disc flex coupling with an operating duty of 450m3/h @ 45m.
Each pumpset is mounted on galvanised machined base frames with painted coupling guards and non-destructive tested 1T lifting lugs. Each base frame is mounted on its particular pontoon including handrails and pipework.
Between these pump pontoons is a third pontoon which contains the common pipework manifold which allows the connection between each pontoon via a mooring hinge plate. There is a passage between the handrails allowing ease of access to each pontoon, this passage is covered by a safety chain when people are not required to walk through.
The Water Storage Dam Pontoon also allows for connection to land via the walkways which are connected by hinge brackets. The mooring hinge plates allow for each pump pontoon to be disconnected and moved to shore for maintenance when required.
There are five expansions of the walkway each approximately 6 metres in length for a total walkway distance of 30 metres. Each walkway is connected by flexible couplings on the floor and a galvanised chain link between the handrails. An abutment hinge is also provided to connect the shore abutment on-site. Lugs for connection of tethering ropes are provided on the middle walkway and the central pontoon.
The pipework provided which is mirrored on each pumpset includes a DN300 foot valve for suction of water from the dam. This is connected to a pump suction via DN300 galvanised pipe that includes vacuum pressure gauges. On the discharge side after the pump check valve, there is DN150 pipework containing flexible bellows for connection between pontoons, and an isolating butterfly valve before both discharges come together into a common DN300 manifold. On the common manifold is a DN300 check valve before finishing after two elbows to a DN300 ANSI #150 flange at water level for connection to HDPE pipework not provided on-site. All flanges included in this pipework at ANSI #150.
This pump includes an automatic vacuum priming system which allows the pump to prime and re-prime itself so that the pump can operate when small amounts of liquid are passing through it. As part of the priming system, a check valve is pre-installed on the discharge of the pump so that air cannot enter from the discharge side.
This pump includes an external seal oil reservoir and piping which supplies lubrication and cooling to the outboard side so the pump can be run dry. The pontoons come complete with lighting and lifebuoys as required on-site, as well as cable trays down the complete length of the walkways for safe cabling on-site. The feedback from the client was the team were very impressed with the quality and workmanship of the pump system package plus the ease of commissioning.