DuPont Develops Solutions to Increase Process Efficiency
DuPont representatives demonstrated how DuPont Kalrez perfluoroelastomer parts and DuPont Vespel CR-6100 parts enable chemical processors to sustainably improve their system efficiency, reliability and safety while reducing system cost.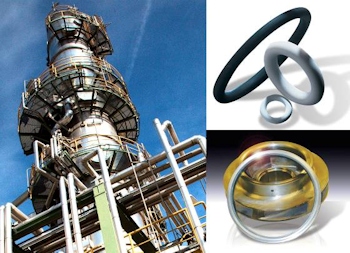 DuPont
DuPont works together with customers to achieve optimum sealing solutions and durable wear solutions for very demanding chemical and hydrocarbon processing, and food and pharmaceutical applications.
"By using Kalrez seals and Vespel CR-6100 wear parts, process and rotating equipment, engineers can meet requirements for greater safety, reliability and productivity in their processes. These products can help increase MTBR (mean time between repairs) and reduce total system cost when used in a wide range of chemical processing industry equipment," said Cedric Triquet, European Segment Lead, Kalrez parts.
Savings in total system costs
DuPont Kalrez perfluoroelastomer parts such as O-rings, gaskets, valve seats and diaphragms can withstand aggressive chemicals and maintain tight seals over a very wide temperature range. DuPont representatives provided case history examples from several global chemical companies and high-tech process pump manufacturers supporting the ability of Kalrez seals to save from 10% to 200% in total system running costs in chemical, pharmaceutical and petrochemical processes. Data on file showed that seal lifetimes of O-rings in an aggressive chemical process were about six months for nonperfluoroelastomer O-rings and about three years for Kalrez, leading to savings of 98% in cost of O-ring seals, installation, downtime and loss of productivity.
For the broadest possible chemical resistance, engineers turn to Kalrez Spectrum 6375 parts because they can withstand most aggressive chemical families including acids, amines, bases, aldehydes, ethylene oxide, hot water and steam at service temperatures up to 275 °C.
To meet stringent cleanliness requirements in United States Food and Drug Administration compliant food and pharmaceutical applications, specifiers can use Kalrez 6221 or 6230 seals to help protect process purity. These Kalrez seals combine exceptional cleanliness with near-universal chemical resistance and outstanding elastomeric properties.
Improving pump efficiency and reliability
DuPont Vespel CR-6100 parts such as wear rings have a proven record of success in pumps and other equipment for the chemical and hydrocarbon processing industries, and can deliver substantial improvements in pump reliability and energy efficiency at significantly less cost than currently available alternatives. They combine outstanding chemical resistance with low wear, low friction and extreme toughness, enabling the parts to survive long duration run-dry conditions, cryogenic service from -253°C to non abrasive high temperature service at +288°C.
Cryogenic to high temperature sealing
Vespel parts are available in other grades developed for specific applications. Vespel SP-21 valve seats maintain a highly effective seal at cryogenic temperatures from -163 °C in liquefied natural gas (LNG) to as low as -269 °C (4K) in helium, for example. Remarkably, the same material maintains a compliant seal without detectable phase transitions up to continuous use temperatures of +300 °C.
Compressor applications
The DuPont Vespel SCP family offers a step change in the performance of compressor piston rings, packing rings and rider bands, versus traditional materials such as PEEK and PTFE. Vespel SCP-50094 parts demonstrate exceptional un-lubricated limiting PV capability of 17.5MPa.m/s in continuous use temperatures up to 325 °C, with compressive strength comparable to carbon steel. Vespel SCP-5050 offers similar high performance with a coefficient of thermal expansion in the same range as stainless steel. The Vespel product family includes grades for use in wet, dry and bone dry gases both lubricated and un-lubricated.
Vespel CR-6100 parts also provide high temperature capability and outstanding chemical resistance in halogens and other difficult gases, making them suitable for compressor valve plate applications. High fatigue resistance, excellent flatness, and the strength and stiffness to survive high pressures coupled with a compliant sealing surface enable Vespel CR-6100 parts to maintain a tight seal over a very wide temperature range.