Dulcometer DACb – The Water Analysis All-rounder from ProMinent
ProMinent will showcase the new device. The basic version boasts two measuring and control channels and can also be fed by 24 V DC protective low voltage.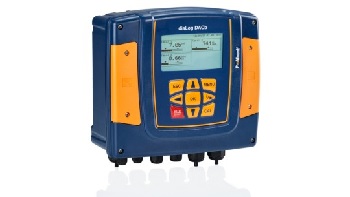 Dulcometer DACb. (Image: ProMinent)
The corresponding sensors can be connected to each channel using an mV or mA input. Customers can choose from up to 14 different measured variables. The two measuring and control channels of the Dulcometer Dialog DACb are independent monodirectional PID controllers and can optionally be configured as two bidirectional PID controllers at the request of the customer.
The controller can communicate with analogue sensors and actuators or digital ones if connected via a CANopen sensor/actuator bus.This compact multifaceted unit is Ethernet-/LAN-capable and can ideally be integrated into existing networks. Profibus-DP, V1, Modbus and OPC are available for communication with the control level. With its functionalities specially designed for water analysis, e.g. processing of interference variables and switchover of control parameters, it closes the control circuit between Dulcotest sensors and ProMinent metering pumps.
Measured values, calibration values and device parameters are stored on an SD card or micro USB stick. The device parameters can be transferred to other controllers. The SD card is easily accessible without the need to open the complete housing.
The multi-parameter controller s software functions can be upgraded later using an activation key or firmware update.The controller can also be operated via a solar system or in the wet areas of waterworks, in view of the fact that it can also be fed via 24 V DC protective low voltage.
Thanks to its versatile uses, it has a very wide range of applications including drinking water and waste treatment, industrial and process water treatment and the treatment of swimming pool water.