Droyt Products Replaces Manual Decanting With Bredel 32 Hose Pump
Chorley-based Droyt Products has selected a Bredel 32 hose pump from Watson-Marlow , to help transfer liquid glycerine soap between a mixing vessel and a cooling/setting mould.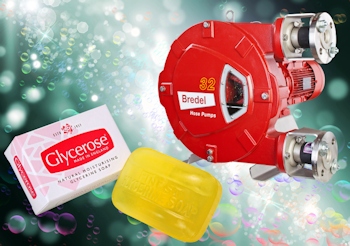 Droyt Soap (Picture: Watson-Marlow Fluid Technology Group)
The pump was selected over lower cost competitor models due to its quality and efficient lifetime running costs. Replacing a previously manual operation, the low-shear handling characteristics of the Bredel pump makes clean, light work of what was once an extremely laborious process.
Droyt Products is a privately-owned manufacturer that has been hand-making glycerine soaps since 1893. In fact, somewhat unusually for the industry, Droyt produces its soap from first principles, namely from the reacting of vegetable oils and alkali. This process is known as saponification and takes place in a large heated (60°C) vessel. Here, additional ingredients such as essential oils, extracts, fragrances and colourants may be added as required.
While Droyt's production ethics lend quality to its distinguished brand, the company's managing director, Chris Effendowicz, thought it high time that the latest technology was introduced to the early stages of its manufacturing operation.
"Because our type of product is largely unmachineable, the initial phases of our production process have remained manual for decades," he says. "For instance, at the end of each shift we would pour out 1000 litres of liquid soap from a stainless steel reacting vessel into large frames to set into solid soap. Alternatively, the liquid soap is transferred into IBC containers if the soap is to be sold in liquid form."
To facilitate this process, Droyt would deploy a steel scoop mounted on a pole to transfer the soap manually on to a stainless steel runway, from where it would pass through filters and into the frame.
"We finally decided to replace our time consuming manual process with a pump because, frankly, it was hard work that involved a lot of twisting, and secondly because it would provide a cleaner, more efficient operation," says Mr Effendowicz. "We tried to do it years ago but couldn't find a pump offering gentle handling and low shear."
Too much shear is undesirable when it comes to pumping liquid soap. Firstly, it creates high levels of lather, and secondly, too many bubbles. Because Droyt's glycerine soap is clear, bubbles can easily ruin its appearance.
"When I recently heard about peristaltic pumps offering no or very low shear, I invited a couple of suppliers to pitch, including Watson-Marlow," says Mr Effendowicz.
Watson-Marlow proposed a Bredel 32 pump with nitrile rubber hose to match a required flow rate of 1000 to 2000 l/hr and provide the necessary 1.25m suction lift from the mixing tank. Because Droyt adds liquid sugar (as a transparency aid) to the saponified oil base, the soap has the consistency of thick custard. However, this is not a problem for the Bredel pump, which delivers low shear and gentle handling regardless of viscosity.