Direct at the Source – Scherzinger Gear Pumps Safeguard the Drinking Water Treatment Process
The source of the water is the Dreilägerbach dam and reservoir in Aachen, from which approx. 30 million m³ of surface water is taken each year. 3030-5030 series gear pumps from Furtwangen-based pump manufacturer Ernst Scherzinger GmbH & Co. KG are used at various points in the chemical cleaning process.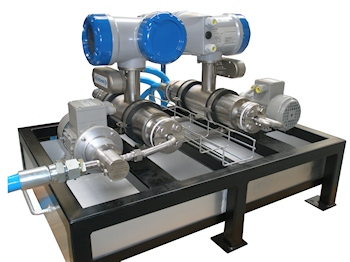 Dosing system for sodium hydroxide (Image: Ernst Scherzinger GmbH & Co. KG)
Once the water has run through a coarse filter, a 50% sodium hydroxide solution is added to raise the water's pH level from 9 to 10. In a second step, aluminium sulphate is dosed via another pump, causing the dirt particles to clump so that they can be separated out by a coarse filter. Following this, the water is pumped through an ultrafiltration plant with a membrane surface equivalent in size to approx. 10 football pitches. The ultrafiltration plant allows for the separation out of even microscopically tiny particles, such as urine and bacteria. Sulphuric acid is added at the next station through another gear pump so that the alkaline water is neutralised again.
"The 1:100 range of adjustment was crucial to the customer selecting our gear pumps as it means that one size covers the required dosing spectrum", explained Georg Sieffert, Product Manager for the Chemicals, Process Engineering and Plant Construction division at Scherzinger.
"We also believe it is important to use high-quality materials so that aggressive media can be conveyed safely using our gear pumps", added Sieffert.
Depending on the particular application, the 3030-5030 series can be ordered in stainless steel, Hastelloy or titanium. FFKM seals are primarily used to ensure the chemical resistance of the seals. The gear pumps are usually made of PEEK; however, they can also be supplied in PTFE, stainless steel or W88 to meet specific customer requirements. Bearings can be selected in different materials, such as ceramics, carbon and plastic, according to how they will be used.