Diesel Transfer Pump Packages Built in Rapid Time by AxFlow
AxFlow's Aberdeen system manufacturing plant has supplied a diesel transfer pump package in quick time for new GE Dual Fuel Powered Generators being installed on the Thistle Platform, North Sea.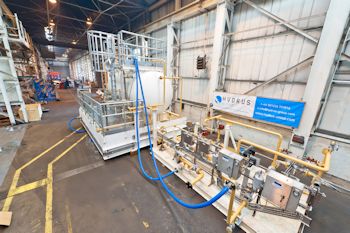 The system comprised a diesel storage tank package and pump skid. (Image: AxFlow)
Given just 16 weeks from order receipt to delivery, a time frame that included full testing, AxFlow's engineers working in conjunction with their pump supplier met the deadline enabling the pumps to enter service on time.
AxFlow's scope was the fabrication and assembly of the system, with the valves and instruments being free-issued by the client, Wood Group PSN. The system comprised a diesel storage tank package, with the Lloyds Certified vessel having a 12,000 litre working capacity. The pump skid comprised two Apex API 610 pumps operating in a duty / standby mode together with all the valves and instruments required for safe and reliable operation of the system.
The API610 pumps are heavy duty, single stage impeller, double volute casing units which have been designed for the most challenging duties. The diesel pumping application for the generators required the pumps to have installed power of 5.5kW and deliver a flow rate of 10.9 m3/hr at 3.53 Bar. In addition, the pump skid also contained two fine filters required to achieve 50 micron level of filtered diesel required for the GE Generators.
The system was fabricated in Aberdeen under AxFlow supervision and once completed, the pumps were subjected to extensive testing over a two week period using diesel.
Commenting on the fast response by the engineering team at its Aberdeen base, AxFlow Managing director, Tony Peters said: "This is another example of our systems building and supply capabilities that are available in Scotland. Speed was of the essence in this contract and we were able to bring together the expertise of the pump manufacturer and our fabrication resources to deliver the best possible solution that complied with all necessary regulations and certification."