Development of Full Stroke PTFE Diaphragms
Wilden has announced the availability of its new Full Stroke PTFE (Teflon) Diaphragms for use on all of its standard-setting air-operated double-diaphragm pump lines.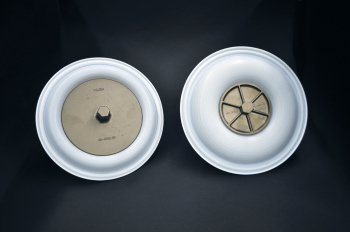 Wilden's new Full Stroke PTFE Diaphragms (pictured on left) provide increased product displacement per stroke versus older, lower flowing models (pictured on right). (Image: Wilden)
The full-stroke design of these new diaphragms results in improved pump performance. This is the result of increased product displacement per stroke, translating into greater flow rates and higher efficiencies than are found in pumps that operate with reduced-stroke PTFE diaphragms.
"Wilden continues to set the industry standard with the incorporation of our Full Stroke PTFE Diaphragms into our line of air-operated double-diaphragm pumps," said Greg Duncan, Director of Engineering for Wilden Pump & Engineering. "This latest enhancement provides our customers with a full-stroke PTFE air-operated double-diaphragm solution that is the best in the industry."
Another benefit of the new Full Stroke PTFE Diaphragms is that they use the same shaft and piston combinations as Wilden's standard rubber and TPE (thermoplastic elastomer) diaphragms, meaning they are easily retrofittable to existing pumps without the need for any extra components. The new diaphragms are available on 1-, 1.5-, 2-, and 3-inch pumps.