Design Award for Pressure Boosting System from Wilo
Wilo has developed a new, particularly energysaving, high-efficiency pressure boosting system, which is intended for use in potable water supply systems, as well as in fire water and industrial applications.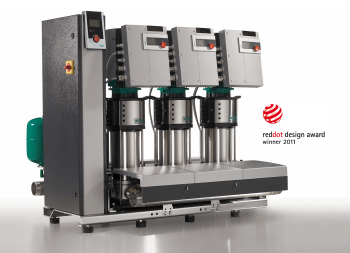 The innovative and particularly energy-saving, high-efficiency pressure boosting system "Wilo-COR-Helix EXCEL" will receive the coveted seal of approval when it is presented with the "red dot award: product design 2011". (Image: Wilo)
On 4 July 2011, in the Aalto Theatre in Essen, Germany, the "Wilo-COR-Helix EXCEL" will be awarded the coveted seal of approval in the form of the "red dot award: product design 2011", in the category of Trade and Industry.
A top-calibre panel of international judges, comprising 36 experts, selected the award winner from among 4,433 products from more than 60 countries. "The significance of good design for a company s success should not be underestimated", explains Professor Dr. Peter Zec, initiator and president of the high-profile competition. The award is not merely a commendation of the innovative optics of the "Wilo-COR-Helix EXCEL"; more than anything, the product design, which guarantees operational safety and reliability, is the reason behind the product s success. In this context, it is also necessary to emphasise the simple operation of both the pumps and the control device, which is made possible by a display and the proven red-button technology that is implemented in all Wilo pumps and Wilo pump systems. These ergonomic design details mean that only one minute is required for the commissioning process, making the management of the pressure boosting system particularly user-friendly.
Equipped with between two and four vertical "Wilo-Helix EXCEL" pumps with highly efficient EC motors (HED – High Efficiency Drive), the new pressure boosting system provides unprecedented overall efficiency values. The motor efficiency exceeds the limit values of the future efficiency class IE4 (as per IEC TS 60034-31 Ed.1), which is set to be the highest. As a result, all future specifications of the new EU Regulation, which is set to come into force on 16 June 2011 under the auspices of the European Ecological Design Directive on the energy efficiency of electric motors, have already been substantially exceeded.
The design for the pressure boosting system was developed by the Berlin-based design agency Mehnert Corporate Design GmbH & Co. KG.